HBV broadens movie fleet
By Euan Youdale28 May 2019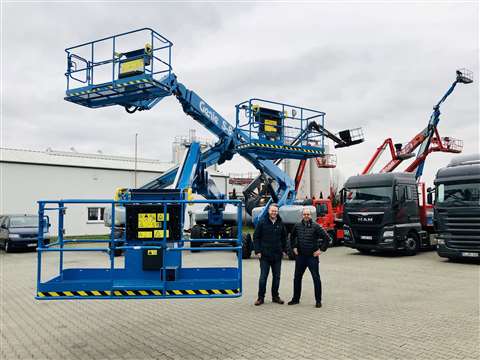 Hydraulik-Bühnen-Verleih (HBV), based in Spelle, northeast Germany has taken delivery of three Genie Xtra Capacity (XC) telescopic boom lifts.
Provided through Genie distributor in Dortmund BSI, the models have a dual lift capacity of 300kg unrestricted and 454kg restricted. The delivery included the 28m S-85 XC, 34m S -105 XC and 43m SX-135 XC.
Anticipating a growing need for greater payload equipment, the access specialist started gearing-up the capacity of its fleet five years ago. "Our aim is to offer a wide range of working platforms of every working height class. Genie is a strong brand that represents 80% of our big boom range. The addition of these three Genie XC boom lifts to our rental fleet is aligned with this strategy," said Frank Sommer, managing director, HBV.
For many years, HBV rental's customers have included film production companies, an area of activity where strong personal contacts and flexibility play an important role. Sommer added, "We've been involved in a number of productions, particularly on locations in the Emsland, Münsterland and Ruhr area. For HBV, as applies to any activity that involves people working at height with heavy equipment, like cameras and lighting, lift capacity of 300kg is a key factor.
As a one-stop shop for aerial access, sales and training is not HBV's only activity. Additionally, thanks to its specially developed 26 tonne payload Maxload 26 trailer, initially built for its 57m working height Genie SX-180 boom lift, the company also provides a flexible transport service without the need of special permits in compliance with the local road transport regulation. Heavy transport, along with moving and assembly of virtually anything is also offered - recent examples include moving a holiday home and placing containers inside a film studio
This year's Bauma in Munich was an opportunity to discover the new 15.72m Genie S-45 XC and new-generation 21.81m S-65 TraX boom lift, with XC capabilities. These may well be the next new boom lifts in to enter HBV's fleet.