Healthy French earthmoving
By Thomas Allen31 October 2018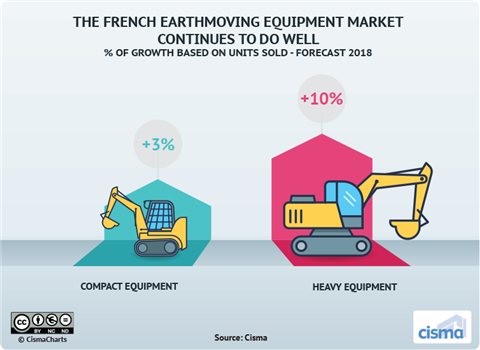 The French earthmoving equipment market is looking healthy, according to CISMA, the French association of equipment manufacturers of construction, infrastructure, steel and handling equipment industries.
The latest figures show that over the first nine months of 2018, earthmoving equipment sales in France reached 16,940 units, representing an increase of 1% on an annual basis.
Over 12 rolling months, the total market was said to have increased by 4.2%.
Sales of compact earthmoving machines were up by 3.8% to 17,000 units, while an increase of 5.6% was enjoyed by heavy machines, with 4,800 units sold.
Although France's compact machinery market is showing signs of slowing down slightly, the current level of the market is high, close to that observed in 2006-2007.
In contrast, the growth rate for the heavy equipment market is accelerating.
Overall, earthmoving equipment sales are expected to rise by 4.5% this year, with demand forecast to reach 22,600 units. This follows the 21% increase seen in 2017, so the positive trend continues, just at a slower pace.