Hearing and seeing
By Alex Dahm21 December 2016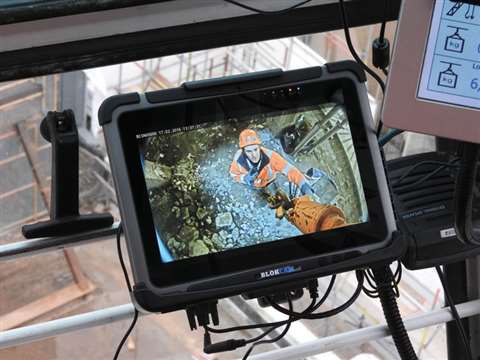 When asked whether the use of sound combined with the camera is a practical combination for better communication with workers on the ground, the response was varied among the camera manufacturers.
Chris Machut, chief technology officer at Netarus, says that the company's camera systems have had audio capability since the beginning but that it has been disabled.
Machut added, "For operators who are accustomed to using a radio system, including an audio feed on the camera system can be redundant and even dangerous. When operators are relying on the radio, but can hear their own echo through the audio systems on the camera equipment, there can be confusion. Our goal has always been to eliminate confusion and improve safety."
System manufacturer Orlaco has the RadarEye camera system that gives the operator a visual and audible warning. The company, however, does not work on a separate communications system over audio. Linda van Dijk at Orlaco says that the interface box also offers a relay for external sirens and warning lights and that proximity detection by the radars could set off a warning both to the operator and the people working around the machine.
Claiming to be one of the first systems to use sound on the hook, BlokCam is positive about the use of sound on its devices. Peter Hird, BlokCam co-founder and joint managing director, says, "The feedback is far better than we anticipated. Crane operators are telling us that they can hear site noise but, over and above that, they can hear the sound of the chains which indicates to them when the weight of the load has been taken up. When the hook block is close to the ground it picks up the riggers' voices too."