Heavy challenge for Al Faris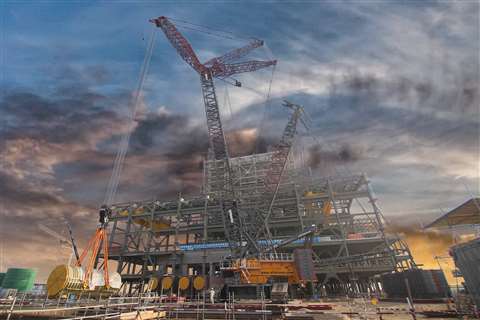 Al Faris made one of its heaviest lifts, using a 1,000 tonne capacity crawler crane, to install a 404 tonne generator in a new power station under construction in Dubai, United Arab Emirates.
The generator was one of 12 installed by Dubai-based Al Faris. They had to be lifted in confined spaces between structures. Al Faris said that after careful consideration and calculation, it determined that its largest lattice boom crawler crane, a Liebherr LR 11000, was considered the most suitable to safely carry out the heavy lifts.
Execution was planned and carried out by its in-house team of trained and qualified experts, Al Faris said. All technical support documentation, execution plans and schedules were prepared in-house. Organising all activities in-house from start to finish was to achieve minimum delay and maximum safety. Health and safety was discussed in detail with the client prior to all operations, the company said.
For the final and heaviest lift the crane was in SDWB2 configuration which is a 48 metre main boom plus a 30 m luffer). Heavy duty webbing slings were used. To begin with the 404 tonne generator was lifted from its hydraulic transport trailer. The crane then travelled 10 m under load towards the foundation. The load was hoisted to a height of 30 m and rotated over a steel structure before being lowered by about 15 m. It was now in a narrow space between the steel structures to the foundation level. Final alignment of the load was done by co-ordinating with the installation team. All 12 generators were lifted and installed in a similar way.