Heavy duty launch from Haulotte
By Euan Youdale21 January 2016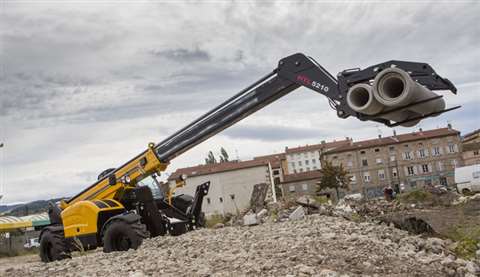 Haulotte will launch its heavy duty telehandler range at Bauma.
The manufacturer showed a prototype of the first in the High Lift range, the HTL 5210, at Intermat in Paris, France, last year. It has a lift capacity of 5.2 tonnes up to 10 m and a maximum forward reach of 3.5 tonnes at 5.8 m with the sue of the stabilisers.
Now to be launched officially at Bauma, it is powered by a Tier 4i / Stage IIIB-compliant Perkins 113 hp (83kW) engine for Europe, and a Tier 3-compliant Perkins 95 hp (70 kW) for Latin America, North America, the Asia-Pacific region, Russia & the Middle East.
Two further models will be announced at the show in Munich, Germany, this April. The HTL6508 and HTL7210 complete the High Lift range, and have lift capacities without stabilisers of 6.5 tonne up to 7.7 m, and 7.2 tonnes up to 9.5 m, respectively.
Both these new models will be produced by Italian telehandler manufacturer Dieci and sold by Haulotte with its branding. The company said it was important to complete its heavy duty range but there was not time to develop these new products along with the rest of its AWP actvivities, so it partnered with Dieci for these two models.
Designed for handling bulky and heavy loads, the HTL6508 and HTL7210 are adapted in particular for extraction industries, like mining, and civil engineering works, as well as for pick and carry operations.
The HTL6508 and the HTL7210 include pothole guards with a cut off system and a limited slip differential on the front axle and the cab, as well as an inching pedal for smooth and precise forward movements.
The range is equipped with FPT Tier 4i-compliant 130 hp (96 kW) FPT engines for Europe and North America, and FPT Tier 3-compliant 127 hp (93 kW) engines for Latin America, the Asia-Pacific region, Russia and the Middle East.