Hewden crane fleet in record auction
By Alex Dahm31 January 2017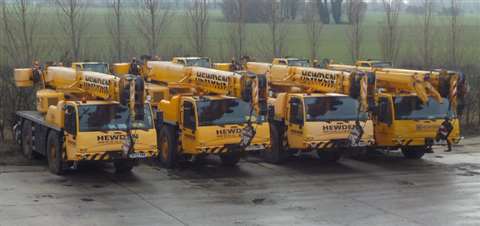 Euro Auctions is selling 130 units from rental company Hewden's fleet in what it claims will be the world's largest crane auction.
The wheeled mobile telescopic cranes, ranging in capacity from 35 to 220 tonnes, will be auctioned on 3 March 2017 at the Newark Showground near Nottingham in the United Kingdom. It will be the second half of a two day public disposal auction that includes more than 500 lots of general construction equipment, access platforms and other lots from Hewden Stuart Ltd.
Commenting on the sale, Jonnie Keys, Euro Auctions operations manager, said, "This will be the single largest collection of used cranes ever assembled for sale in one place, anywhere in world.
"Phenomenal interest is being generated by this auction within the industry from right around the globe as all the cranes have been maintained in A-one condition and many have exceptionally low hours and come with some manufacturers' warranty," Keys continued.
The largest cranes are two 220 tonne capacity Tadano all terrains registered in 2016. They have 68 metre main booms and 11.1 m main boom extensions to give a 76 m maximum hook height. Another 23 of the cranes in the sale are 100 tonnes or higher capacity, including five 130 tonners (60 m boom), a 120 with 60 m boom, three 110s (52 m) and 14 at 100 tonnes capacity with 51.2 m booms.
From the bottom up there are 11 units of 30 tonne capacity city class telescopic cranes with 25 m boom. All terrains then come as follows: 23 units at 35 tonnes capacity (37.4 m boom); 11 units at 40 tonnes, with 31 and 37 m booms; 13 at 50 tonnes, with 40 m boom; 15 units at 55 tonnes (44 m boom); 10 units of 70 tonne AT with 52 m main boom; 13 at 80 tonnes capacity; and six 90 tonners.
Jonnie Keys continued, "We are beginning to register interest from bidders from every continent, including the biggest crane buyers in the industry and bidder interest is already brisk. This will be the biggest sale in crane history."
Construction equipment rental company Hewden Stuart Ltd went into administration on 22 November 2016. A new company, HS Realisations Ltd, was formed to liquidate the Hewden assets. Ernst & Young joint administrators S Woodward and C Dempster appointed Euro Auctions.