Hitachi hybrid excavator debuts in Europe
By Sarah Ann McCay05 June 2014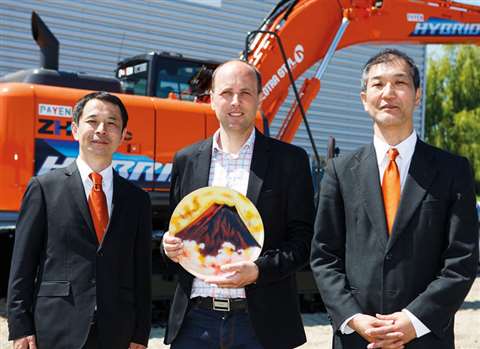 French rental company Cotra Styl, part of Groupe Noblet, has taken delivery of the first Hitachi hybrid excavator in Europe.
Groupe Noblet's owner, Laurent Galle, received the keys of the ZH210LC-5 from Hitachi Construction Machinery (Europe) NV's general manager engineering, Hiroyuki Kamata, and the local Hitachi dealer Payen's commercial director, Stéphane Bonifacy.
Hitachi Construction Machinery Sales and Service France's president Haruyuki Shimada also presented a special Japanese plate to Mr. Galle.
Cotra Styl said it saw the hybrid for the first time at last year's Bauma construction equipment exhibition in Munich, and then tested a prototype version for six weeks on native soil.
Groupe Noblet and Cotra Styl specialise in the rental of excavators and trucks (with operators and drivers respectively) for earthmoving and decontamination work, as well as the construction of roads and sewers. The company already operates a Hitachi fleet, including an EX165, EX135W, ZX52U-3 and ZX35U-2.
"The Hitachi hybrid excavator is an excellent product and we are delighted to be the first owner in Europe," said Mr. Galle. "It is the first medium excavator of its size in our relatively compact fleet.
"This is a truly innovative machine for us as we are environmentally friendly and therefore keen to promote the virtues of hybrid products. For instance, we have reduced the fuel consumption of our existing excavators and trucks by 15% in the past two years.
"The test with the prototype model went really well on projects that varied from city centre sites to rural locations. Our customers saw the value of this product and we had some good feedback from them. In addition, there were less emissions and noise from the ZH210LC-5 than a conventional machine, without a compromise on performance."
Cotra Styl said the new machine had already been put out to work, on a farm in the village of Les Alluets-le-Roi where it is being used for earthmoving as part of a project to demolish a farm building and prepare the groundworks for seven new houses.