How technology is advancing the lifting sector
By Niamh Marriott08 June 2022
From predictive maintenance to safety software, the latest technologies are taking the lifting sector to new heights. Niamh Marriott reports.
The global rollout of 5G technology is proving useful to the lifting industry as well as for consumer communications. In Zhengzhou, China, Zoomlion recently demonstrated its 5G tower crane remote control system when completing its first lift on the construction of a school.
5G remote control technology
The newly developed system was based on an unmanned tower crane project and was supported by Henan Telecoms 5G technology. Its remote-control features aim to replace high-altitude or ground level operations, which the company says will improve the operator's working environment and personal health and safety.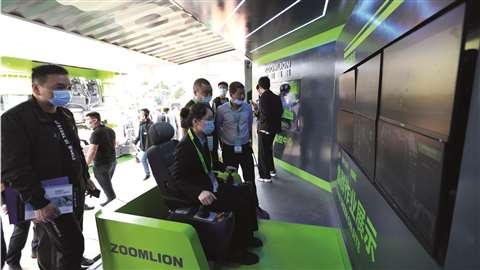 The system boasts an all-round video surveillance system that captures multi-angle observations of the crane's movements and surrounding areas and an intelligent tracking system of the tower crane's hook. The tracker uses infrared cameras and digital sensors to improve hoisting accuracy.
There is a monitoring system to display different parameters including boom height, wind speed, temperature, and humidity, and can predict future motions. It also has an anti-collision system that uses the low latency and stability of a 5G network and combines AI and computer vision technologies to detect obstacles within 10 metres of the hook.
Zoomlion has already applied 5G technology to its tower cranes, mobile cranes, concrete pump trucks and excavators. It says it intends for all its products to use 5G technologies in the near future and says it wants to digitally transform and upgrade to smart technologies across its whole range.
Anti-collision systems
Anti-collision technology remains popular on sites as safety is always a top priority for many projects. A recent project in Norway, with cranes supplied by the new joint-venture company Wolffkran Norge, a partnership of Wolffkran and Mikkelsen Kran, is using AMCS Technology's anti-collision system.
The project is to construct a new hospital in Molde and three Wolff 8033 cross cranes have been installed and equipped with the AMCS DSC 61-S system. Commenting on his experience with AMCS Technologies, Frank Kvam, CTO at Wolffkran Norge says, "This tender requested anti-collision systems able to be adapted and interfaced to different brands of tower cranes at the same site.

"The decision was made to use AMCS Technologies DCS 61-S as anti-collision system in the current tender and for future needs of Wolffkran Norge. The DCS 61-S system, with all possibilities and features, was an easy decision. It can manage interferences between tower cranes and mobile cranes.
"The hospital construction was in a remote location. With shifting winter weather, windy conditions with snow one day and rain the next, we can confirm the DSC 61-S system has proven its reliability. The operators are very happy with the systems and the cranes, we can remotely monitor from our laptops thanks to AMCS Technologies IoT lifting solution."
Anti-collision technology is most beneficial in complicated and diverse sites. Sensor manufacturer Sick has developed a radar sensor for collision avoidance in cranes operating in harsh environments. The RMS1000 is designed to offer 24-7 detection performance in challenging outdoor conditions such as ports, container terminals and transport hubs. It can achieve long-range resolution and distance accuracy, the company says, even with heavy rain, thick fog, snow or dusty environments and is IP67and IP69 rated.
"Collision avoidance is an important protection in ports and transport hubs, for example, on rail-mounted gantry cranes, to avoid costly collisions or operating stoppages," explains Neil Sandhu, national product manager for Sick UK.
"The RMS1000 can detect a large object, such as a vehicle, up to 100 metres distance, and a human being up to around 50 metres. It uses 61 GHz FMCW (Frequency Modulated Continuous Wave) technology to detect obstacles in up to four monitored areas simultaneously, as well as to determine distance and radial speed.
The sensor can be fitted into existing operating machinery as well as new technology. Sensor technology is varied, with many products now using LiDAR instead of radar. In Japan, Innoviz Technologies produces solid state LiDAR sensors.
The company recently announced a collaboration with Obayashi Corporation, a Japanese construction company, to develop an automated tower crane system that uses its sensors. This follows on from Obayashi's autonomous solutions for excavation equipment.
Predictive engine maintenance
Being able to reliably predict when machinery will fail or need replacing can save money and considerable time. Motorenfabrik Hatz and system provider Sontheim Industrie Elektronik are collaborating on a joint project called KIM, Künstliche Intelligenz zur Motorinstandhaltung (artificial intelligence for engine maintenance).
The companies aim to develop digital solutions that will enable engines to predict maintenance cases based on usage, and automatically request the appropriate service. Operators of mobile machinery are already benefitting from digital solutions which make their machines more productive, efficient and convenient.
The partnership aims to expand this, and use AI to advance the current algorithms. "At the heart of the project is the development and implementation of precedent-setting algorithms. These enable real-time information on the engine's condition as well as a precise forecast and thus the planning of necessary maintenance measures according to requirements," says Maren Hellwig, who is responsible for digital business development at Hatz.
Engines equipped with this intelligence will also be in a position to autonomously request necessary maintenance and replacement parts as well as service capacities, he says, which will considerably increase machine availability and reduce or avoid unplanned outage and repair times.
Maintenance is therefore no longer carried out reactively after the occurrence of damage but in advance.
Using AI to forecast machine maintenance
This concept is being explored by Austrian manufacturer Palfinger, too, as the company's network of sales and service partners is being optimised by AI. Spare parts for its loader cranes, truck mounted forklifts and lifting solutions can be on site and installed one day after failing. This is due in part to the multitude of service and sales points, (there are more than 5,000 in 130 countries) but also due to its forecasting methods based on the AI technology.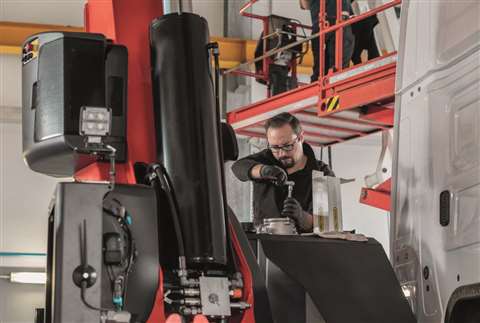 The company says that this significantly increases the ability to deliver and adapt inventory to customer requirements and makes workflows more efficient. More and more companies are seeking to develop new technology and modernise industrial processes. Scotland-based XL Global Group, has appointed a new UK business development manager, Graeme Simpson, to oversee the development of partner brands, including a number of key robotics, power distribution and automation systems providers.
While Simpson will work across all elements of XL Global Group, his initial task is to expand its customer base in the manufacturing and food and beverage sectors. This activity will focus on the automation XL division but will also include projects for Access XL and Aquidata XL.
Graeme says, "The demand for efficient, safe, reliable, smart and automated processes continues to expand, presenting an exciting opportunity to grow the business. Providing clients with solutions that improve their bottom line will generate repeat business as well as bringing us new customers."
Robotics in mobile equipment
New technologies are being developed in the transport industry, too, and seek to improve both safety and efficiency. Kalmar, part of Cargotec, has signed a joint development agreement with Coast Autonomous to speed up the development and launch of robotic solutions across the mobile equipment offering.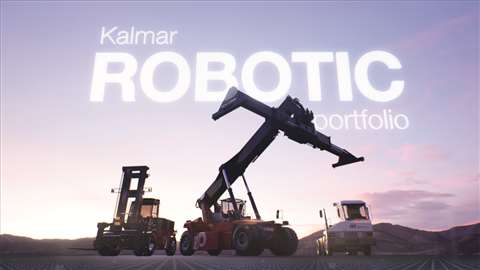 Coast Autonomous is an autonomous driving technology start-up based in California, USA. The company has developed an autonomous vehicle system that includes mapping and localisation, robotics and artificial intelligence, fleet management and supervision. In the initial phase, the partnership between Kalmar and Coast Autonomous will focus on the autonomous driving functionality of the Kalmar RoboTractor – an autonomous terminal tractor.
Technology that improves crane safety
Hardware can be just as useful as new software when it comes to crane safety and reliability. Hamid Shah, chief business development officer at Bondura, explains the latest mechanical technology the company has designed for tower cranes. "We have developed a brand-new solution, the PIN, presented for the first time at the ITC conference in Nice, France, in December 2021.
"It's designed for tower crane sections and is an expanding sleeve that expands into the entirety of the bore. It can be installed in one complete part without a spring cotter." The company says it improves safety and is easy to install.
"Imagine working at height and installing bolts. We have all heard of fatal accidents where people have fallen to their death due to difficult bolts. With Bondura's tower crane PIN it is easy to install and easy to remove the PIN. It guarantees solid connection.
"To install the bolt, the hole or support needs to be bigger than the bolt. When you have sections on sections, the end result will be unwanted movement at the top of the crane. The Bondura Tower Crane PIN comes with an expanding sleeve which eats up tolerances in the hole or support, meaning there is no room for movement," he adds.
All areas of both the lifting and transport industries are developing new technologies to make jobs smarter, safer and more efficient. With many new partnerships being announced, knowledge sharing and collaborative working could provide quicker and better advancements to push the industry into the future.