How the Showman's Show bounced back from the pandemic
The UK's main exhibition for the events sector, the Showman's Show, made a welcome return in October after an enforced pandemic break. Events veteran Graham Crisp reports for IRN.
The event industry is a tight-knit enterprise, with often a friendly rivalry between competitors. This was evident at the Newbury Showground, with IRN observing lots of cordial greetings, smiles and hugs around the Show after its enforced absence.
One such welcome was conveyed to IRN on the GAP Group stand. GAP are probably best well known for their work in construction related markets, however they do have a thriving event hire division, managed by Richard Judge.
Judge said the division had experienced "tough times" during the lockdown , but that they were already experiencing considerable growth in the event markets: recently they crammed "three months of work into just two months."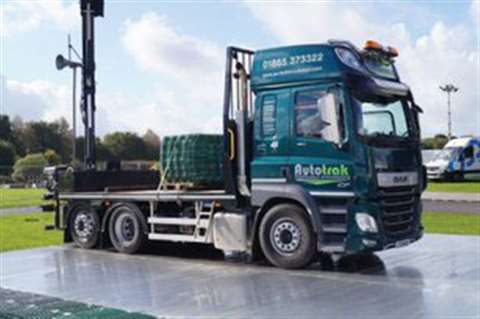 The company used the downturn to assess its equipment range, with one consequence being investment in a new plastic temporary flooring system and metal front-of-stage barriers. He added that they would be heavily promoting low emissions products such as solar lighting and hybrid units.
The US temporary flooring producer Signature Systems displayed a wide range of flooring systems all manufactured in their Orlando, Florida facility. Signature's UK representative Tony Booth explained that there had been extensive demand for his equipment from UK rental firm's supplying some of the country's large infrastructure projects, such as HS2.
Booth said its SignaRoad panels, manufactured from HDPE plastic, had become one of their most popular products with both rental and event markets, because of its durability, compact size and ease of installation. He added that he fully expected more demand from rental firms as he anticipated event and festivals would flourish in 2022.
Interestingly, rental giant Sunbelt Rentals UK chose not to display any equipment at the Show. Instead, they treated visitors to their stand with a massive wide-screen monitor, set up inside a cosy marquee, that demonstrated a large part of their rental fleet in action. One item that caught IRN's eye was an electric bicycle that was recently filmed being ridden by UK Prime Minister, Boris Johnson.
JCB had a large stand packed with telehandlers, forklift trucks and Stage V generators. IRN noticed a new 'battery-pack' style generator, although this innovation has yet to be formally launched.
When was the Showman's Show first held?
At first glance the Show – which was first held in 1984 - appeared to have less exhibitors in the outside arena than in previous years, however the indoor marquee stands looked to be fully occupied.
The outside areas are where many of the power and lighting exhibitors were located, and what was very noticeable at the Show was the amount of battery/hybrid, and solar/hybrid power systems being used to power individual stands.
Nic Forsdike, Managing Director of power supplier Gofer, showed IRN an app that confirmed that his hybrid unit had been powering their stand continually for twenty-four hours, and had only used 13% of the battery power. He was confident that they would complete the Show with zero emissions.
Likewise, Will Docherty of Generator Power enthusiastically handed IRN a case study where they partnered with a national UK housebuilder to reduce both their fuel usage and emissions.
Generator Power supplied a 45kVA battery pack combined with a 60kVA generator on standby, ready to recharge the battery pack when required. During September 2021, the generator ran for 52 hours over a 5-week period which, said Generator Power, reduced the client's fuel bill by more than £4750, with a corresponding CO2 savings of 13,936kg.
Docherty said that during the winter months they would be monitoring this site via their telemetry system to ensure that all unnecessary items are powered down to save even more fuel and emissions.
Continuing on the green power theme, IRN spotted the rather imposing HybridPowerSafe unit displayed prominently on the Stuart Power stand. Stuart Power's Russell Tregent, a Director at the company, explained that it was a combination of a 65kVA generator and a 30kVA battery. IRN noted the multi-socket arrangement, consisting of 125A 3 phase, alongside an array of 63, 32 and 16A outlets. During August 2021 the HybridPowerSafe set was used on an HS2 project and, according to Stuart Power, their clients saved £1630 in fuel costs and cut more than 5730kg in CO2 emissions.
Manchester based Falcon Power was making its Showman's Show debut. The company was formed in 2015 as a division of Falcon Tower Crane Services, and they have more than 400 generators in their rental fleet, supplied by JCB and Atlas Copco.
Their fleet ranges from 20 to 1250kVA, with a line of hybrid sets, titled the Hussh Pod range. Although they were mostly known for their industrial applications, IRN was told that they had seen steady growth in the events markets, and they were actively seeking to extend their services to outside events and festivals.
Hybrid lighting sets were also evident across the Show. The MHM Group had a very busy stand displaying the wide range of generators, fluid storage tanks and lighting towers. Managing Director, Mat Llewellyn was eager to show IRN the solar-only, emission free lighting tower, the ST-9.
Llewellyn explained that the ST-9 was a self-charging, solar powered lighting set, with a vertical 9m mast fitted with LED lamps. He said MHM is championing the use of HVO (Hydrotreated Vegetable Oil) renewable diesel. He went on to say that MHM was already using HVO in their own rehire rental fleet, supplied by Crown Oils.
For many years, ACE Plant have been providing a wide range of plant and machinery to both the construction and events markets. Their dust suppression units are widely used in the demolition industry, but are also popular at festivals, dampening down swirling dust which could be a hazard.
What impact did Covid-19 have on infrastructure?
IRN saw a Trime X-HYBRID cube style lighting tower alongside a line-up of buggies and tractor units. Keith Whitlock, ACE Plant's National Sales Manager said that events had "taken a big hit" during 2020 due to the pandemic, but infrastructure projects had kept them busy. He added that their event customers began getting busy in mid-2021. He was expecting a big rise in event work in 2022.
Naturally, marquees play an important part when setting up an event. Installation and erection can be difficult particularly when there has been a prolonged dry spell. To combat this, the Australian manufacturer Christie Engineering has developed a petrol-powered post driver, alongside an extensive range of accessories. Simon Anthony, Director of SPA Power Machinery, which markets the Easy-branded products in Europe, told IRN that the post drivers were very popular with marquee firms, fencing contractors and farmers. They were also available to hire from a number of UK rental businesses.
There were a large number of trackway rental firms dotted around the Show. Nick Russell of Autotrak Portable Roadways informed IRN that they had prospered during the pandemic supplying film sets as well as Covid testing sites and the temporary UK 'Nightingale' hospitals. He mentioned that they had invested heavily in plastic trackway panels to complement their traditional aluminium panels. Russell was another experiencing a substantial upturn in events, and he expects a big rise in 2022.
Mark Pruce, Director of Operations for the temporary trackway supplier CAP TRAC, showed IRN their new plastic flooring systems, manufactured exclusively for his company. He confirmed that CAP TRAC were very busy "right now."
Davis Trackhire have just opened a new depot in Retford, Nottinghamshire, UK. They supply both plastic ground protection mats and heavy-duty aluminium trackway to a broad range of industries. Similar to other firms in the events markets, Davis Trackhire suffered a big business drop early in 2020, but they soon found work in the construction markets, and were quickly back up to full speed.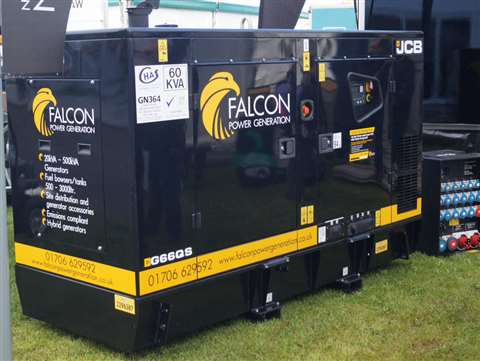 Away from the equipment side of the Show, IRN learned about the Event Hire Association's (EHA) recent link up with the insurance broker, Towergate Insurance Brokers. This partnership jointly launched a new product called HireSecure. The EHA told IRN that HireSecure is a "new and improved short-term hire insurance product that covers their members in event of loss, damage, fraudulent hire, theft, vandalism and malicious damage." The product is available on both owned or cross-hired equipment.
Paul Gaze EHA's CEO commented that "2022 is looking like an incredibly busy year for events. Having the security of a short-term insurance product will allow companies to fulfil contracts with minimised risks." The Hire Association Europe (HAE) was formed in 1974 and its' sister association the EHA in 2008.
Computer software is a must for most rental firms, and Point of Rental Syrinx programmes are well-known within the rental markets. Amelia Reed, Point of Rental's Account Executive, said that their new Syrinx 365 system had all the features of the standard Syrinx software with the main exception that 365 was cloud based. This made it accessible wherever an internet connection was available. 365 also has added features such as simple customisation, and real-time weather tracking, alongside an instant messaging service helping to keep team members in close contact at all times.
Finally, and going slightly off-piste, IRN was introduced to an all-new range of female urinals, marketed by the cleverly titled company PeeQual Limited. Director Hazel McShane said that their mission was to "pioneer pee-equality that is quick, safe and sustainable". An interesting concept that should help to avoid queuing for the toilets at events and shows. PeeQual is available to buy or rent.
IRN was in no doubt that the events industry is back. Perhaps not "with a bang", as one press release stated, but after a hollow year the enthusiasm and sheer determination by all in the industry to get back on track was palpable. We wish them well.
The Show will be back on the 19 and 20 October 2022.