Hüffermann Krandienst adds 500 tonner
By Laura Hatton11 June 2015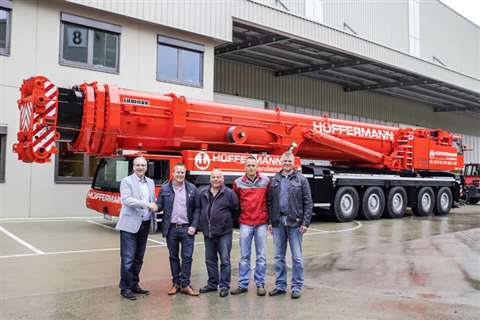 Crane rental specialist Hüffermann Krandienst in Germany has taken delivery of a 500 tonne capacity Liebherr LTM 1500-8.1 wheeled mobile telescopic crane.
It has a 50 metre telescopic boom and was ordered with the Y-guy capacity enhancement system on the boom and a 91 m luffing lattice jib.
Carsten Meyer, Hüffermann large crane dispatcher, said, "Its complete set of equipment makes the crane flexible enough for use for a very wide range of jobs. The LTM 1500-8.1 is just the right size for our requirements. It can also be made ready for use quickly and has good set-up times for a crane of this class."
Daniel Janssen, Hüffermann managing director , said, "The whole package from Liebherr is right. We receive outstanding service and the availability of spare parts is good. Another factor is that all the cranes have a uniform control. I can use all our drivers on any of the cranes since they are all controlled the same way."
Work planned for the new mobile crane includes repowering and tower erection in the wind industry, hoisting work in gas and petrochemical refineries, bridge building and infrastructure projects. The LTM 1500-8.1 joins Hüffermann's fleet of 35 mobile cranes.