Hybrid & Electric: Fork in the path?
By Thomas Allen19 June 2018
The rise of electric and hybrid technologies is causing a bit of confusion in the construction industry, with some companies behaving almost schizophrenically – declaring the benefits of clean diesel one moment, and then launching fully-electric equipment the next.
While diesel is feeling the squeeze of government regulations, electric power remains limited by current technology, so it can be difficult to know which one to back. As is so often the case, though, it would seem the answer lies somewhere in the middle.
At present, 1 litre of diesel can provide the same usable energy as a 20 litre lithium-ion battery, according to Oliver Lythgoe of Perkins. Also, with their robustness and the high-torque they can deliver, diesel engines are particularly well-suited to heavy-duty construction applications.
So, until a breakthrough is made in battery technology that dramatically increases their power density and the torque they can offer, the applicability of electric and hybrid technologies is primarily a question of scale for OEMs.
On the one hand, it might make sense for a manufacturer to offer, for example, fully-electric mini excavators, because they are commonly used in urban or internal settings where quiet, zero-emissions equipment is required and where the machines can be charged via a domestic mains supply.
However, at the other end of the scale, it makes less sense to produce electric 20-tonne excavators, because those machines require a lot more power and often work on remote job sites without access to a supply of electricity.
Also, as has been pointed out by David Bell, director of JCB and honorary president of the UK's Construction Equipment Association (CEA), "It would actually cost £160,000 (€182,300) for a lithium-ion battery large enough to power a 20-tonne excavator for an eight-hour shift." The cost is prohibitive.
Between those two extremes, medium-sized equipment provides an opportunity to combine the two approaches and offer a hybrid machine that is perhaps propelled by a diesel engine but has various functions powered by electric batteries.
Bell said, "In the next 30 years, the global population is expected to grow from 7 billion to 10 billion, and the number of city dwellers will increase from 54 to 70% of the population."
With this trend towards urbanisation, it could be time for fully-electric and hybrid compact machines to shine, especially with the introduction of more low-emissions zones in cities.
Zero emissions
Wacker Neuson, which specialises in compact construction equipment, has a whole zero-emissions line of machines, which includes the new all-electric zero-tailswing EZ17e excavator, and the new electric AP1850e vibratory plate.
The company's CSO, Alexander Greschner, said, "For a number of years, legal provisions have been developing towards a reduction of noise and emissions for construction machines. With our zero-emissions products, we are taking construction to a new level. Now, we can offer a solution for the entire construction process of a classic inner-city construction site completely free of emissions and with reduced noise."
The EZ17e has an integrated charger and intelligent charging management system, which means that the excavator can be operated from battery power or by being connected directly to the power supply system. It can also be charged while being operated.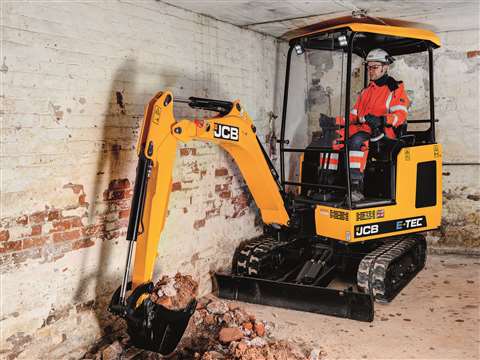 An ordinary household power outlet of between 110 and 230V is sufficient to charge the battery overnight, but a quick charge via a high-voltage power supply is possible in four hours.
The excavator is powered by state-of-the-art lithium-ion technology, which is installed in the rear of the machine, and offers an operating time of five hours in power mode, or up to seven hours in Eco mode.
The vibratory plate, said to be the only battery-driven plate on the market, can go for a full working day compacting an area of at least 800m2, without needing to be recharged.
The electric motor does not have a V-belt, which means that it is maintenance-free, and the vibratory plate's modular concept allows the same battery and charger to be used in Wacker Neuson's battery-powered rammers.
Greschner said, "In the near future, we will offer at least one emissions-free product in every main product group."
A new all-electric mini excavator was also announced by JCB recently. The zero-emissions JCB 19C-1 E-TEC is due to be officially launched onto the market later this year.
It has three advanced NMC lithium-ion cells, housed in a rugged battery pack designed to withstand the rigours of off-highway construction use. They provide a total storage capacity of 15kWh so that, when fully charged, the excavator can operate for a full working day in a typical duty cycle or for four hours in an extreme duty cycle.
The hydraulic system is driven by a motor that uses the latest 48V electrical system and has the capacity to instantly deliver greater torque than the standard machine's diesel engine, according to JCB.
An on-board charger is provided as standard, allowing the machine to be fully recharged in six hours using a conventional 230V mains outlet. A 110V option is also available, and when the machine is launched it will come with a fast-charge option that allows it to be charged fully in 2.5 hours, using a heavy-duty off-board unit.
The convenience of the new all-electric model is enhanced by the fact that no daily checks of coolants and engine oil levels are required, and with external noise levels 7dB(A) lower, it was said to be five times quieter than its traditional diesel-powered counterpart.
Quarrying and aggregates
The team at Volvo Construction Equipment (CE) is busy working towards an all-electric future – at least for the quarrying and aggregates industry.
As part of a project to develop an electric site solution that aims to create an accident-free quarry without any unplanned stops and with zero emissions, Volvo CE is building a fleet of eight HX2 autonomous, battery-electric load carriers.
Volvo CE is working in partnership with Skanska Sweden to incorporate the machines into operations at a Swedish quarry for a demonstration towards the end of 2018.
The intention for this is for the transport stage – from excavation to primary crushing and transport to secondary crushing – to be electrified.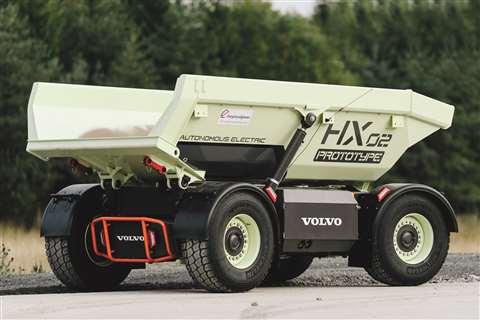 The HX2 is a second-generation concept machine that was said to incorporate shared technologies and components from the Volvo group, such as electric motors, batteries and power electronics. The integration of a completely new drivetrain into the load carrier was said to have been a crucial part of this.
Other prototype machines that make up the electric site system include the LX1 hybrid wheeled loader and the EX1 cable-connected excavator.
The LX1 was said to be capable of delivering up to a 50% improvement in fuel efficiency compared to its conventional counterparts. It incorporates a driveline with electric drive motors mounted at the wheels, electric-driven hydraulics, an energy storage system and a significantly smaller diesel engine.
Speaking about the EX1, Uwe Müller, Volvo CE's chief project manager for the scheme, said, "Because the machine will be relatively static, it's ideally suited as a fully electric machine on a cable. This has allowed us to make it a zero-emissions excavator when it's plugged into the grid."
However, it has been built as a dual-powered machine to make it more flexible, giving the option of using the diesel engine when needed.
Said to be another first for the sector, Ausa recently introduced the D100AHA, an electric dumper with a driver's cab.
The prototype has an electric power unit that delivers 13kW of energy and has the capacity to work for a full six-hour day at maximum power. The D100AHA can be connected directly to a 220V mains supply via its external transformer and can completely recharge in five hours.
The prototype dumper has a hydrostatic transmission and a loading capacity of just under 1 tonne.
Turning to look more at the hybridisation of larger-scale construction equipment, as the development of hybrid- and electric-drive vehicles progresses, Dana is designing and testing compact, fully-integrated drive systems consisting of motors, gearboxes, power electronics and thermal-management products that deliver optimal performance while reducing manufacturing complexity and total cost of ownership.
At the Intermat exhibition in Paris, France, earlier this year, the company unveiled new technologies in support of the rapidly-evolving development of hybrid- and electric-powered construction vehicles, with the aim of enabling OEMs to accelerate their hybrid- and electric-vehicle development programmes.
Modular approach
Dana's strategy begins with a modular approach that combines Spicer Electrified hybrid and electric drivetrain solutions for current vehicle architectures with internal-combustion engines.
From this foundation, the company provides a range of innovations that were said to provide a smooth transition to fully-integrated electric-drive technologies, optimised within a single package to maximise performance.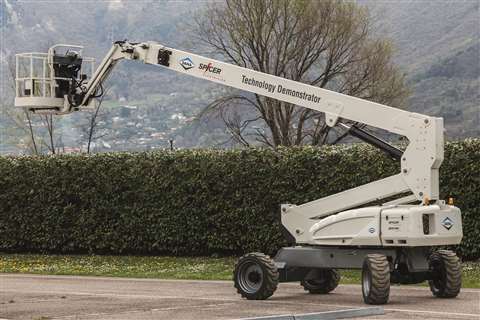 Dana offers a series of modular hybrid- and electric-drive systems that can fit into existing vehicle design envelopes and are intended to provide OEMs with effective, low-risk, quick-to-market solutions.
The company's products can be connected to traditional Spicer wheel drives, track drives, axles and transmissions to deliver hybrid or electric functionality.
Dana's technological capabilities were showcased at the exhibition by a mid-sized hybrid-electric telescopic boom lift, which was equipped with more than 30 Spicer drivetrain and Brevini motion products.
Also at Intermat, Cummins revealed its first electrified off-highway powertrain concept, with a 35kWh battery pack.
The range-extended electric driveline (REEV) was said to be suitable for a wide range of equipment, including wheeled loaders, mobile cranes and excavators.
Julie Furber, executive director of the company's Electrified Power Business, said, "Cummins is developing a portfolio of alternative power for the industrial market, including full-electric and range-extending electric drivelines. These complement our Stage V clean diesels and enable us to offer the best solutions for our customers, whatever their needs."
Single charge
Cummins' Battery Electric (BEV) system provides pure electric power with zero emissions on a single charge at the point of use. It was said to be suitable for applications such as drills, underground mine trucks and terminal tractors.
The REEV, however, offers a balance of battery power with a compact engine-generator. It works in the same manner as a BEV but has both an F3.8 Stage V-powered generator and plug-in options for charging. This was said to give greater flexibility for job sites that lack the infrastructure for charging.
The generator uses a high-efficiency traction motor that provides continuous torque of 1,850Nm, eliminating the need for gear shifting and significantly reducing powertrain noise, according to Cummins. An instant peak torque boost of up to 3,400Nm is available when the machine hits difficult working conditions.
Furber said, "With our recent acquisitions of Brammo and Johnson Matthey Battery Systems, we are building capability across the entire range of electric storage."
Cummins' display at Intermat showed how the REEV would power a 20-tonne wheeled loader. The machine would be charged overnight, allowing two hours of operation per 35kWh battery. More batteries would be added to extend the operating time.
Hybrid excavator
Komatsu Europe – which developed the world's first commercial hybrid excavator in 2008 – recently launched its new HB215LC-3 hybrid excavator with a new-generation, EU Stage IV-compliant engine and Komatsu's most advanced powertrain technology to date.
The HB215LC-3 was said to harness almost a century of Komatsu's knowhow, offering a number of benefits including significant fuel savings and reduced CO2 emissions, enhanced productivity, greater control, and improved operator comfort.
Koenraad Staels, product manager at Komatsu Europe, said, "Ten years after the launch of the industry's very first hybrid excavator, Komatsu demonstrates its ongoing commitment to the development of hybrid technology."
Staels went on to say, "The new HB215LC-3 offers upgraded hybrid and total-vehicle-control systems, to help customers reduce their fuel consumption by more than 20% and improve operating performance, compared to a non-hybrid excavator."
The HB215LC-3 is powered by an EU Stage IV-certified Komatsu SAA4D107E-3 engine that offers 110kW of power and has an SCR (selective catalytic reduction) system using AdBlue to reduce NOx emissions.
The hybrid system uses an electric swing motor/generator so that the hydraulic power normally needed by the swing system is instead available to power the boom, arm and bucket, helping to improve productivity.
The energy from swing deceleration, which would normally go unused, is captured and stored in an ultra-capacitor for use by the electric swing motor or engine-mounted motor/generator to assist engine acceleration.
Three years ago, Huddig launched a hybrid concept machine based on the company's Tigon Technology.
Since then, intensive development work has been carried out at Huddig's factory in Hudiksvall, Sweden, and the first Huddig Tigon backhoe loader prototype has now been released, with a limited number of pre-series machines being manufactured.
Lars Lindahl, CEO of the company, said it represented "a new technology that will change the way that construction machinery is built in the future".
Huddig said the new technology made it possible to produce 30% more output than a diesel engine could produce alone. By generating and regenerating energy, the new backhoe loader was said to offer greater efficiency and improved performance.
The diesel engine powers three EMGs (electric motor-generators), which supply power to the pumps for the operating hydraulics. If necessary, the EMGs can charge a lithium battery.
In a different operating situation, the EMGs use the output from both the diesel engine and additional output from the battery, to supply higher output power than that supplied by the diesel engine on its own.
The hydraulics and propulsion can be powered solely by electric power or by both the diesel engine and the battery in combination.
Full production of the Huddig Tigon backhoe loader is scheduled to begin in 2020.
Wheeled loader
Banishing any fears that hybrid machines might be less effective than entirely diesel-powered ones, Caterpillar recently introduced its new electric drive 988K XE wheeled loader, which was said to offer 25% greater overall efficiency and up to 10% more productivity in load-and-carry applications than the company's 988K loader.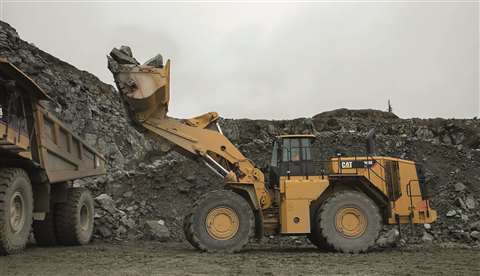 Leveraging more than 15 years of Caterpillar's electric drive experience, it is the first wheeled loader offered by the company with an electric drive system.
Driven by a C18 Acert engine, it is recommended for demanding job sites where fuel efficiency significantly affects the machine's total cost of ownership.
The electric drive technology was said to lower overall maintenance costs, while increasing the engine's life expectancy. Offering extended oil change intervals of 2,000 hours, the 988K XE was said to use 40% less powertrain oil than the 988K.
The durable SR drive motor, generator and inverter are intended to last through the second engine life with minimum maintenance, and the electric drive design was estimated to increase the engine's life by up to 3,500 hours, extending the time between powertrain rebuilds.
To assist with electric drive rebuilds, Caterpillar offers service training material to customers, backed by support from the company's dealer network. Remanufactured drive motors, generators and inverters will also be available to reduce rebuild cost.
The standard 988K XE is performance matched to offer efficient three-pass loading of the 38.6-tonne Cat 770G and four-pass loading of the 46.3-tonne Cat 772, while the loader's high-lift configuration delivers five-pass loading of the 55.3-tonne Cat 773G and six-pass loading of the 64-tonne Cat 775G.ce