Hyundai starts work on new European HQ
By Joe Malone29 September 2015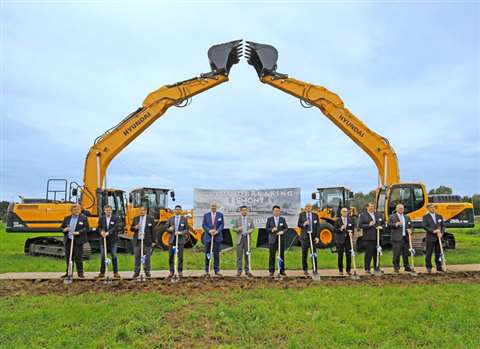 Hyundai Heavy Industries Europe (HHIE) has held a ground-breaking ceremony to mark the start of construction of its new €30 million headquarters in Tessenderlo, Belgium.
The complex will include a new, three-storey, 5,400m² office building, a 13,000m² warehouse, a European training facility, an event hall and a showroom.
The construction works are scheduled for completion by the end of 2016.
The building has been designed by Infrabo, a well-known Belgian architecture and design firm with extensive experience in the b2b industry.
SG Rhee, chief operating officer of the Construction Equipment Division, Hyundai Heavy Industries (HHI), and JC Jung, managing director of HHIE, welcomed guests from the Belgian government and representatives from the local community.
Jung said "On the 81,000m² of new land we can double the capacity of our machine parts supply, welcome our customers and intensify the commercial and technical training of our dealer network."