India's major state and private steel producers are rapidly migrating from their traditional, rudimentary plant maintenance practices to more advanced ones as they become bigger on the backdrop of major capacity additions undertaken in recent years. These advanced maintenance practices feature higher levels of mechanisation, including powered access. Major reasons for using the platforms is greater safety and faster maintenance, resulting in higher levels of plant availability.
Tata Steel is one of the major producers in India that is adopting AWPs extensively. It is employing them for maintenance of its flagship, 100-year-old, 10 million tonne fully integrated Jamshedpur steel plant, located in mineral rich state of Jharkhand in Eastern India. The steel producing behemoth has also deployed a fair number of AWPs to carry out regular maintenance at its newly-commissioned plant in Kalinganagar in Odisha, Eastern India. It has a capacity of three million tonnes and was commissioned in 2016.
Before 2009, maintenance at the Jamshedpur facility was carried out using traditional bamboo and conventional steel scaffolding for major and minor repairs. It was decided to move to mechanised practices, as maintenance personnel discovered that setting up scaffolding took more time. Moreover, many constricted, critical areas of the plants could not be accessed as scaffolding required a larger space.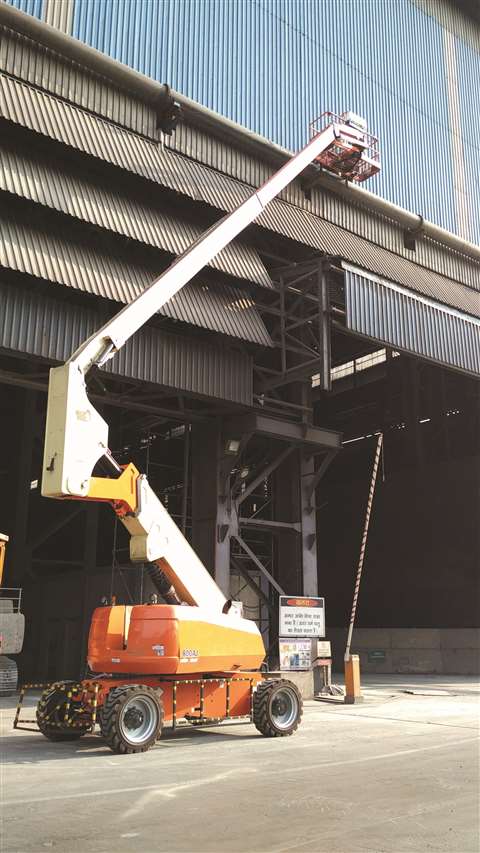 Speaking to Access International, Sankar Biswas, chief of central maintenance (mechanical) at Tata Steel says, "We found in many cases while working at height, maintenance workers are making substandard working platforms or avoid making any platform at all to execute the jobs. This is primarily because of two reasons. Firstly, in many cases for doing a half hour job they need to spend hours in making a scaffolding platform. Secondly, on many occasions, due to non-availability of suitable materials for the access platforms, workers altogether avoided constructing platforms. This used to result in the construction of improper approaches for working at greater heights. Due to this, we had many fatal accidents. To address these issues, we began introducing powered access for plant maintenance jobs from 2011 onwards. We now utilise scaffolding for undertaking maintenance only when required."
Regular maintenance
Both the Jamshedpur and Kalinganar plants are utilising powered access platforms for maintenance to wiring, pipe lines - including pipe replacement, blast furnace, steel melting, sinter plant and hot strip mill equipment. The platforms are also extensively used for chimney cleaning, painting and general maintenance jobs.
"Powered access platforms are utilised by us for maintenance performed above 2m. Primarily, we use powered access machines where not more than two maintenance crews are required at a time, job duration is short, there is requirement for working at higher height and overall when we find it difficult to build scaffolding at the job area." Says Mr Biswas. Tata Steel is utilising 40, 45, 60, 80, 85, 120 and 150 ft articulated and telescopic boom lifts.
While AWPs are being used by Tata Steel for carrying regular maintenance, there are also certain very specific maintenance requirements. "The Jamshedpur plant generates close to 10 million tonnes of dust during the process of steel production. This gets accumulated on the roof of the plants, requiring regular cleaning by placing people on AWPs," says Mr Kishan Sonthalia, partner, United Air Express, a major, Jamshedpur based, AWP, construction and mining equipment rental company with specialisation in steel plants operation and industrial housekeeping.
United Air Express rented nine new JLG AWPs to the Jamshedpur facility for the maintenance work. They include a 34ft working height 1340 boom lift, a 45ft 450 boom, two 60ft 600 AJ booms, two 80ft 800 AJ booms, one 125ft 1250 AJT boom and one 150ft 1500 AJS boom. It has also rented out a JLG scissor lift. They were acquired for three to four years by rental company United Air Express, to which Tata Steel has outsourced operations of its blast furnace at the Jamshedpur plant.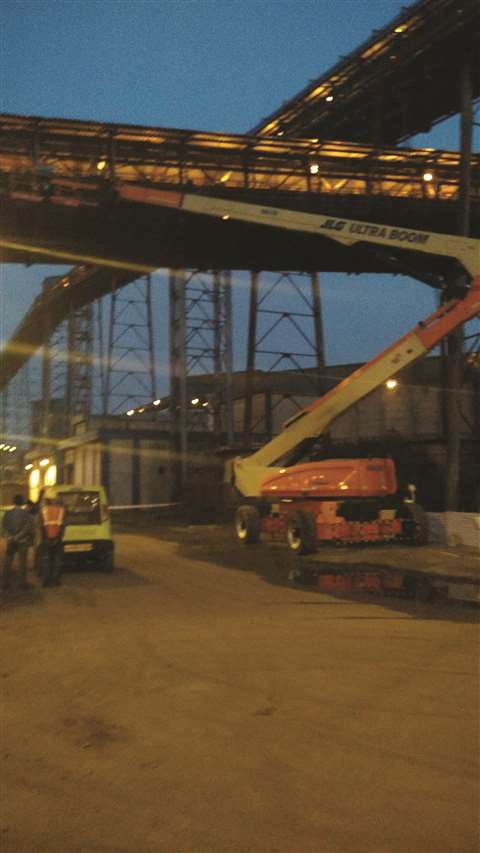 Rising orders
Encouraged by the wide benefits of AWPs for quicker response times and carrying out emergency maintenance jobs, subcontractors and maintenance companies working for Tata Steel's plant maintenance have been procuring large numbers of units over the years. The plants have also been buying equipment of their own. The AWPs are both diesel- and battery-driven for external and internal maintenance tasks.
Tata steel procured articulated and telescopic boom lifts between 45-80 ft in the recent past from Genie. The boom lifts are being used for pipeline and for other maintenance purposes. The plant's own Z-80/60, 80 ft unit is used for 400 kVA switch yard maintenance. JK Surface Coating, subcontractors for Tata Steel carrying out coating and painting jobs at the Jamshedpur facility acquired two Z-45/25 and 40 others from Genie, few years back.
"Based on higher levels of reliability delivered by the equipment and quick response time, the steel major procured eight battery-operated, Terex Genie, GS 2032 scissor lifts in 2014 for Jamshedpur and four units for their Kalinganagar project for battery maintenance. For the Kalinganagar facility, it also acquired 30 ft, push pull AWPs for indoor jobs involving electrical maintenance, stacker applications." Says Raja Ghosh, senior manager, business development, Maco Corporation (India), distributors for Genie in India.
He continues, "Based on the large success of the equipment at Tata Steel, another major private steel producer Jindal Steel recently brought four GS 5390 RT scissor lifts for maintenance of its steel plant in Angul Odisha. State owned, Steel Authority of India's Rourkela plant in Eastern India has also brought one brand new TZ-50 trailer mounted boom for switch yard, pipeline and coke oven battery maintenance. Recently Tata Steel's Hooghly Metcoke facility (HMC) in West Bengal bought a150ft Genie SX-150 for coal tower maintenance along with one Z80/60 articulating boom."
Safety requirements
Tata Steel and other steel producers hiring the AWPs from rental companies have put stringent safety regulations for the equipment.
According to Mr Biswas, "There are lots of safety features built in to powered access platforms, none of these are to be by passed and they must be certified by the OEM.
"Machine life should not be more than 10-12 years as structural integrity is questionable after that, unless the machine is completely revamped and recertified by OEM. Quick retraction of the extended boom must be in place to bring back the maintenance crew to ground level in case of emergency. Service providers should have annual maintenance contracts with authorised OEM dealers. Furthermore, it is mandatory that rental agencies should have certified operators to run the machine at our plants."
For OEMs supplying the machines, the private and state-owned steel plants stress that equipment needs to have guard rails to prevent infringement. Plus, the equipment, specifically boom lifts, need to have foam filled or solid non-marking tyres, back camera and sound alarm.
The author of this feature also contributed an indepth article about India for the November-December issue of AI.