Indian equipment market to overtake Japan in two years
By Chris Sleight02 September 2008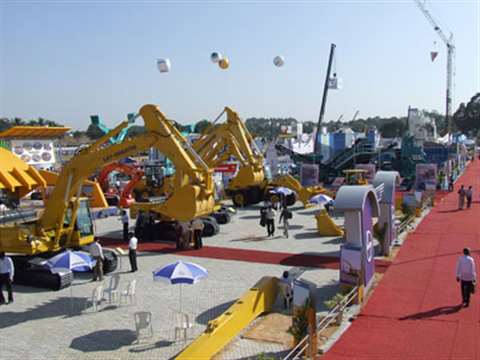 The Indian construction equipment market is set to grow +14% this year according to the latest report from Off-Highway Research. Last year's record volume of 50366 units is forecast to rise to 57350 machines in 2008.
This represents a slowdown from last year's break-neck expansion of +47%, but makes the Indian market fourth largest in the world after China, the US and Japan. Off-Highway Research expects growth to pick up to +23% next year and +22% in 2010, which should see India overtake Japan as the third largest equipment market in the world. Over the next four years Off-Highway Research expects the market to grow some +131% on 2007 levels to 116295 units by 2012.
As far as forecasts for this year are concerned, Off-Highway Research expects to see strongest growth in the crawler excavator segment, with a +35% rise to 13000 units. However, the most popular machine in Indian construction remains the backhoe loader, with sales of 22000 units expected this year - about level with 2007. This makes India by far the largest backhoe loader market in the world, ahead of the US where sales of these machines are expected to hit 18200 units in 2008.
India's continued focus on road building is driving sales of associated specialist equipment, with roller sales forecast to rise +18% to 3800 units this year. Similar growth is seen in the asphalt paver sector, with demand expected to hit 1125 machines this year.
Other volume products in the Indian market include mobile cranes, where +9% growth is expected to take the market to 8400 such machines this year. Demand for wheeled loaders is expected to rise an impressive +34% to 3200 units this year, while mobile compressor sales are expected to go up +18% to 3150 units.
For more information, visit www.offhighway.co.uk