Innovation Award winners announced in Munich
By Leila Steed09 April 2019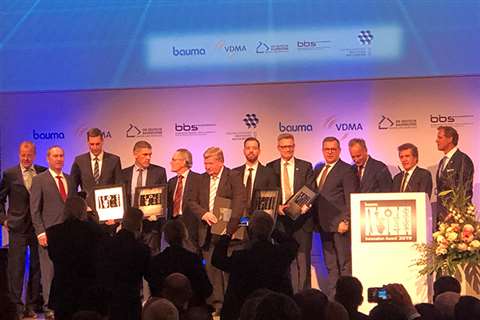 Liebherr and Herrenknecht were among the winners at the 2019 Bauma Innovation Awards, which were announced at a ceremony in Munich, Germany.
The awards, which take place every three years at the Bauma show, recognise technical innovations across five categories: Machine, Components/Digital Systems, Construction Work/Construction Method/Construction Process, Research/Science and Design.
Out of over 130 entries from around the world, a panel of expert judges awarded the prizes to four companies and one university.
Machinery

Herrenknecht picked up the Machine category prize for its E-Power Pipe.
The company's small diameter cable conduits with a casing length of more than 1km can be quickly and safely installed underground. This is said to protect the landscape from major changes and therefore enables greater acceptance by the population when it comes to laying power lines.
Components/Digital Systems

MOBA Mobile Automation won for its PAVE-TM system for automatic and non-contact layer thickness measurement in road construction. The system allows material requirements to be planned precisely, and accident risks minimised because manual remeasurements are no longer necessary.
Construction Work/Construction Method/Construction Process

Max Bögl took home the prize for its mobile production facility for wind turbines. The company said it could completely implement German factory production as a mirror image anywhere in the world and avoid costly transport while promoting the local economy.
Research/Science
The Technical University of Munich won for its driver guidance system, which supports construction machine operators with holograms during their construction site activities.
Virtual 3D models and data from different sources overlay real objects and the environment. The operator receives all relevant information in their field of vision, which is said to provide a better overview and help with the implementation of changes in the construction process.
Design

Liebherr Hydraulik Bagger picked up the award for its new operating environment for construction machines.
Its digital control environment combines physical and digital units enabling machine operators to control and communicate with the machines, while the machines on site are communicating with each other.
The competition is a joint project from the German Engineering Federation (VMDA), German Construction Industry Association (HDB), Central Association of the German Construction Industry (ZDB), German Building Materials Association (BBS) and Bauma.