Insulated booms go off-road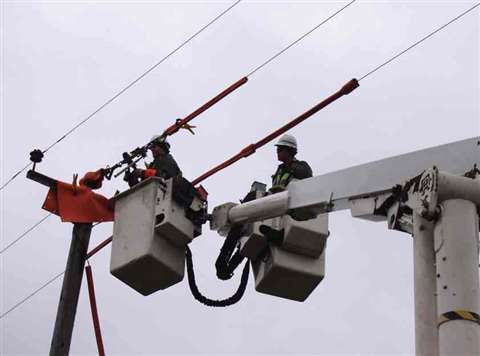 Live line and 'hot glove' working is increasingly being conducted on electricity supply infrastructures around the world as electrical supply and maintenance companies seek to minimise the inconveniences power supply interruptions can cause to their customers. As a result, there is a growing requirement for insulated booms mounted on vehicles that have the ability to cope with the rough terrain that these lines frequently cross.
Good mobility and appropriate working heights are not the only requirement for these machines, however. Outreach or up and over capability is often of equal importance, since frequently overhead lines run across private gardens, working buildings and other obstacles where it would be impractical or impossible to position the vehicle directly under or adjacent to the line itself. So what solutions are available?
Rough terrain-capable Insulated booms do not come much more rugged than the Bronto unit delivered in January 2004 to British Petroleum for solutions use for maintenance and repair work on the Central Power Station's 69kV power transmission system at the company's Prudhoe Bay oil facility in Alaska. BP's requirement was for a platform that could work reliably under the most challenging weather conditions (-40 degrees F, with wind chill factors of up to –90 degrees F) while minimising damage to the tundra surface. The power grid, supported by 90 foot (27,4 meter) tall wooden structures, had been built in the early 1970s, and its increasing age meant that maintenance requirements had more than doubled in recent years, leaving BP's existing equipment unable to cope.
A modified Bronto Skylift SI-125 HDT insulated boom with a working height of 125 feet (38 meter) and 64 feet (19.5 meter) outreach was mounted on a special all-terrain vehicle, a Foremost Chieftan-R tracked chassis, by Canadian Bronto dealer Hycotec Inc. The Chieftan is a carrier with four 34 inch (0.86 meter) wide rubber tracks and centre pivot articulated steering, with airbag suspension and an oscillating frame. This allows the vehicle to easily following the contours of the ground, and provides low ground bearing pressure from the large ground contact area.
The boom deck was widened to 11 feet (3.4 meter) to carry a 20 kV generator and 600000 BTU diesel powered hot air heater, and ducting was added to carry the hot air to warm the hydraulic valving and hoses around the turntable. The boom was also outfitted with a stand-alone engine and hydraulic system at the rear of the deck, rather than using the carrier's systems.
To cope with the extreme climatic conditions, electric resistance heaters were fitted to all electrical enclosures, immersion heaters were placed in the hydraulic oil tanks, a hydraulic warm up circuit was installed, protective covers on the proximity sensors were fitted and every piece of the boom was insulated from the cold. The operators were not forgotten, with a wind guard mounted around the platform and a heater/blower fitted side.
The machine ran 24 hours a day for over 90 days during the Alaskan winter – if shut down for any length of time, the cold was such that it might not have been able to restart it.
One UK utility company that required a high degree of mobility was United Utilities, whose principal activities are managing and operating the regulated electricity distribution, water and wastewater networks in north west England. The company required a Category C 46 Av insulated boom with a working height of 14 meter (46 feet), but also realised that a vehicle with a low ground bearing pressure was necessary to minimise damage to the farmland and other privately owned ground it would frequently have to operate over. It teamed up with Time Manufacturing's UK distributor Versalift to fit one of the VST240MHI insulated booms on to a Loglogic BIGTRACK crawler.
The result is a machine that offers the required working height and payload and a low ground pressure. The Versalift boom is fully insulated to ANSI Category extreme solution for an extreme application C (46 kV) and the boom itself is telescopic unit with an articulated riser, offering a working height of 46 feet (14 meter) and horizontal outreach of 31 feet (9.5 meter) with a platform capacity of 583 pounds (265 kilograms).
Versalift engineering manager Bryn Barnes says: "The structural integrity achieved in the platform supports excellent performance on slops. The BIGTRAK can be used without stabilisers on gradients up to 5 degrees. A state-of-the-art warning system indicates what gradient the machine is at and a safety interlock prevents operation above 5 degrees until the stabilisers are deployed, which then permits operation on slopes up to 12 degrees."
Versalift insulated booms are more commonly fitted to wheeled chassis, with the Mercedes Unimog proving an increasingly popular solution to provide off-road capabilities in Europe.
Time Manufacturing's Danish-based export manager Per Torp says its customers are primarily electrical utility and supply companies looking for booms in the 15 to 22 meter working height range; "Our parent Time Manufacturing ships some 1500 insulated booms per year, with around 250 going into the export market. These are primarily fitted onto Unimog, Iveco and MAN chassis."
Mr Torp says that the machines sell all around Europe and the Far East, but that the Czech Republic was a particularly strong market for the company last year and he expects similar this year. In addition, the increasing trend towards live line work in countries such as Germany will, Mr Torp believes, see a continued growth in the uptake of rough terrain capable insulated boom solutions over the next few years.
This was echoed by Phil Allen of PJ Allen Sales in the UK, a distributor for the Altec range of insulated boom products. He said that there is a rising demand for insulated booms in the UK, and for rough terrain applications, the Mercedes Unimog almost always is the vehicle of choice. This is in part because of its acceptance as a vehicle suitable for agricultural applications. "A farmer will accept a Unimog-mounted boom turning up on his land to carry out power line work far more readily than a on-road truck with four wheel drive, especially with our climate. They tend to view it more as an agricultural vehicle in its own right. Its tractor-sized wheels and tyre pressure reduction systems are less likely to cause ground damage, particularly in the winter," he told AI.
Growing demand
He sees a bright future for rough terrain capable insulated platforms in the rental sector in Europe. "As a result of EU working at height legislation, we will increasingly see tree surgeons and other specialist contractors carrying out work close to live power lines for transmission companies. In the UK, utility companies are moving away from doing this work themselves. The Health and Safety Executive now encourages the use of powered access for these jobs, but with the relatively high cost of appropriate machines compared to more traditional access solutions, I believe that rental -based channelsexportwill increasingly be asked by these contractors to provide the necessary powered equipment over the next three to five years."
French manufacturer EGI is another that fits insulated booms onto the Mercedes Unimog, although export manager Remy Doyen told AI:
"We can fit an insulated boom onto any make of chassis that our customers require, although currently the most popular are from Iveco, MAN and of course Mercedes. The Unimog is especially popular because of the rough terrain capability that it offers." EGI has been working closely with Electricite de France over the last 40 years while developing its ranges of insulated booms, says Mr Doyen
Typical of its product offerings is the 56 foot (17 meter) articulated boom with outreach of 29 feet (8.8 meter) and a platform capacity of 583 pounds (265 kilograms), which EGI usually mounts onto a Unimog U500. The boom features CANBus fibre-optic electronic control and a foam-filled insulating boom section that is fully EN 61-057 (IEC 1057) compliant and ENC approved to 3000A/m. In order to ensure safe operation on rough terrain 'H' type outriggers are fitted to the vehicles.
Mr Doyen says EGI is currently sending its booms to private and national electricity companies in more than 50 countries around the world. Both telescopic and articulated units are available from EGI, with the telescopic designs featuring a fixed foam-filled fibreglass insulated section.
Meanwhile, in the USA Terex Utilities is another who is providing off-road insulated solutions, although the company admits that this sector is not a large part of its business, with the majority of its insulated booms being fitted to standard road-going truck chassis. However, the company has fitted such booms to a number of tracked chassis from a number of manufacturers, as well as logging machines that feature flotation lug tyres and a high ground clearance.
The company reports that the most common solution for off-road applications involves the use of standard truck chassis with four wheel drive. While many of these are fitted with standard road tyres, some make use of special tyres designed specifically for use off-road.
As live line working looks set to gain in popularity around the world, the need for off-road insulated capability looks set to continue to grow, albeit at a relatively modest level.