Introducing The Floating Offshore Wind Sector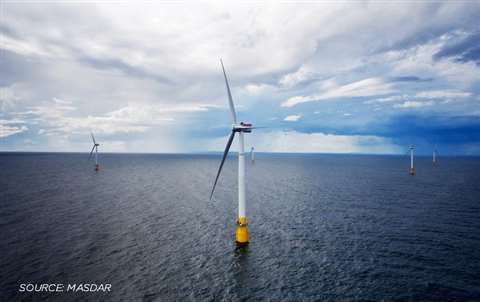 What is the Floating Offshore Wind (FLOW) sector?
The Floating Offshore Wind sector is the new it technology in the eolian world of renewable energy. FLOW is expected to unlock 80% of global offshore wind resources located in waters deeper than 50m. It has the potential to supply more electricity than the entire world consumes today. With less foundation material required, a shortened installation cycle and decommissioning, and additional wind power generation at water depths exceeding 50-60m, the sector is a rapidly evolving one.
FLOW technology deploys offshore wind turbines mounted on a floating structure and placed in water depths where bottom-fixed structures are not feasible. Developers can assemble and pre-commission wind turbines onshore and tow the entire unit to the site offshore. Once the unit is assembled onshore, it can be stabilised at sea, applying a semi-submersible concept, single point anchorage (SPAR) buoys, or other technologies. This means that the assembly takes place in a much safer and more controlled environment as compared to traditional bottom-fixed structures.
Floating foundations are regarded as the future of deep water offshore wind for many good reasons; the floating technology is ground-breaking and offers advantages including:
Efficient harnessing of the enormous wind power available in deeper waters with more consistent and faster winds.
Ease of installation in deep waters where fixed-bottom structures are either too expensive or too challenging to install.
Faster development with lower foundation requirements and higher energy yield.
Environmental benefits compared with fixed-bottom designs due to less-invasive activity on the seabed during installation.
Stimulation of local supply chain job growth in marine industries where Industrialised coastal regions affected by the decline in shipbuilding will gain the most from reorienting their infrastructure towards floating offshore wind.
Global Developments in Floating Offshore Wind Today
According to industry estimates, the technical potential for floating wind power is around 7.000 GW for Europe, the US, and Japan combined.
Currently, the only operational floating wind farm of scale is located in the UK, at the Hywind project in Scotland, developed by Equinor and commissioned in October 2017. The farm has five floating turbines with a total capacity of 30 MW.
A number of important developments are simultaneously taking place currently in Portugal, Spain, Denmark, Sweden, Japan, South Korea, Denmark, and the USA. The detailed overview of projects can be found here.
The projects currently under development are an illustration of the scale and pace of development that is taking place in Floating Offshore Wind. With analysts forecasting a 50% annual growth rate for FLOW over the next five years, the market represents a massive opportunity for marine tech businesses and innovators right across the supply chain.
Sarens & FLOW
Sarens' global presence, its large crane fleet, and its broad experience of over 60 years in the heavy lifting, transportation, assembly, and installation of wind turbines, makes it a valuable partner of choice for the floating offshore wind power sector. We are a one-stop-shop solution to almost all phases of FLOW projects that will be developed around the world in the coming years.
In particular, we provide all level of lifting solutions, from bare crane rental to turnkey projects. As a technically-innovative, technology-driven company, clients have always relied on our cutting-edge technology and engineering know-how for their wind heavy lifting and special transport requirements. We are an ISO certified organisation with a team of engineers and operational staff who are experts in the on and offshore wind industry and execute projects exceeding the highest client standards.
To solidify our presence as a main player in the new FLOW market and to demonstrate our commitment to serve this new sector, we recently joined the World Forum Offshore Wind (WFO), the world's first organisation exclusively dedicated to fostering offshore wind growth worldwide. Our plan is to supply valuable information to the international community the WFO brings together and share our expertise with our clients by successfully completing FLOW projects globally.