Ivory Coast contract for Besix
By Catrin Jones10 December 2021
PFO Africa, designer and builder of the Abidjan Exhibition Centre (Parc des Expositions), has awarded Besix a contract to build the structure and roof cladding of the Palais des Congrès, in the Ivory Coast.
The works, which began in June 2021, includes the design, manufacture, transport and installation of a three-dimensional metal structure 37m high with Besix also carrying out the concrete shell and the installation of the roof.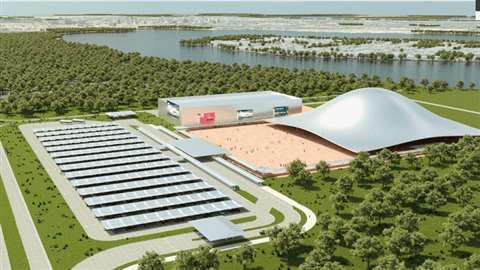 The Palais des Congrès, designed by architect Pierre Fakhoury, will have a surface area of 12,000m² and a capacity of 10,000 people. It will host trade fairs, cultural and sporting events and international conferences.
The construction of the Abidjan Exhibition Centre, led by PFO Africa, is part of the Eco-Aérocité project developed by the Ivorian Ministry of Trade and Industry.
Built near the Félix Houphouët Boigny International Airport, the complex is intended to host first-class economic activities, easily accessible to foreign visitors.
In addition to the Exhibition Centre, the Eco-Aérocité will house offices, hotels, shops and housing, all located in the heart of a wooded environment that respects the local flora.
Mathieu Dechamps, general manager of Besix International, said, "Besix is very proud to participate in the construction of the Abidjan Exhibition Centre, a project which will further strengthen the central position of Ivory Coast in the heart of West Africa. The Palais des Congrès is an exceptional project, which we are looking forward to completing and which will make a significant contribution to the influence of Ivory Coast."