JCB fleet for Brazilian water scheme
By Chris Sleight08 September 2009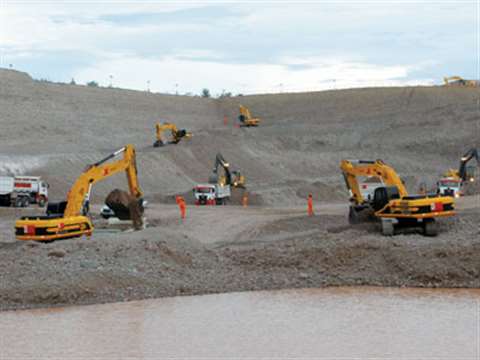 Sixteen JCB excavators are playing a pivotal role in helping irrigate and improve residential water supplies to an arid part of North East Brazil. The project is set to benefit up to 12 million people who are often affected by intermittent water supplies in the State of Pernambuco.
JCB's São Paulo dealer Auxter has sold 12 20-tonne JS200 and four 33-tonne JS330 tracked excavators to São Paulo-based earthmoving and construction specialist Encalso to assist in the scheme funded by the Brazilian government.

The project will see the construction of concrete irrigation ditches run off the São Francisco river - Brazil's 3rd largest river - to help supply water to expanding cities in the area and to irrigate the land. The fleet of JCB machines are involved in the excavation of more than 450 miles of channels and in the creation of holding ponds.

The scheme will benefit areas where water is in short supply and where 55 million people currently rely on being supplied by only 3% of Brazil's water resources.

JCB Brazil Product Manager Charles Stevenson said, "Encalso is a large client in São Paulo state and chose to buy from our dealer Auxter and ship the machines to the north east of Brazil with Auxter providing post-sales back-up. Pernambuco is very remote, so they cannot afford to be waiting for parts and support. They chose JCB excavators because they find them the most economical and productive on the market."