JLG sales fall in fourth quarter
By Euan Youdale29 October 2015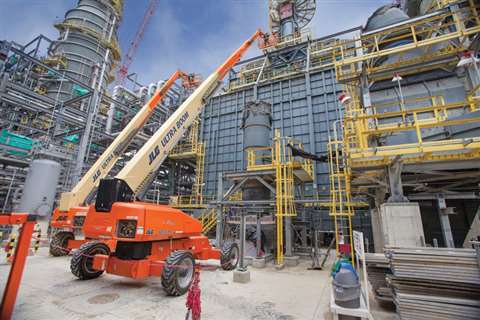 Sales at JLG declined 17.5% to $769.5 million in the fourth quarter of its 2015 financial year.
Parent company Oshkosh said the fall in its access equipment segment was primarily due to a slowdown in the order rate in North America. This was partially offset by improved shipments in Europe.
A stronger US dollar also impacted access equipment sales by $26.2 million. On a constant currency basis, sales decreased 14.7%.
For the full financial year JLG's sales fell to $3,400.6 million from $3506.5 million recorded in 2014.
The group's fourth quarter was also affected by a $2.4 million after-tax workforce reduction charge at JLG and corporate restructuring. This partly resulted in a group fourth quarter net income of $50.3 million, compared to $77.8 million in the fourth quarter of 2014.
JLG's operating income decreased 55.7% to $56.5 million, or 7.3% of sales, for the fourth quarter, compared to $127.4 million, or 13.7% of sales, in the same quarter last year.
Excluding these costs, adjusted operating income was $59 million, or 7.7% of sales in the fourth quarter. "The decrease in operating income was primarily the result of lower sales volume and weaker product mix, adverse manufacturing absorption and provisions for valuation reserves on used equipment as a result of the access equipment market slowdown, offset in part by lower incentive compensation expense," said the company in its financial statement.
"Fourth quarter earnings were in line with our revised expectations," said Charles Szews, Oshkosh Corporation CEO. "As we expected, our access equipment and concrete mixer businesses experienced soft demand in the fourth quarter, but construction activity in North America and Europe remains on the upswing which we believe will lead to stronger demand for these products in coming months."
In September Oshkosh announced that Mr Szews will retire at the end of this year, with president and COO Wilson Jones, a former president of JLG, being appointed to the leadership role on 1 January 2016.
The group now expects earnings per share of $3.00 for the 2016 financial year, rather than the previously forecasted $3.40. "This range is lower than implied by our comments during our third quarter earnings conference call due largely to a more cautious outlook for our access equipment and concrete mixer businesses. We believe these markets will be soft during the first half of fiscal 2016 before improving as the 2016 construction season gets underway," added Mr Szews.