Jouni Hulttinen - Tracking the changes
How important is this part of the demolition and recycling industry to Metso?
It is important to our minerals capital and mobiles business because 40% of our LT Compact range of Lokotrack mobile crushing plant units under 50 t goes to recycling applications. We see recycling growing in the future due to legislation getting tighter and tighter.
How is this changing compared to other traditional areas for Metso such as mining?
It's changing because dumping costs are getting higher, new legislation is coming and new standards are being developed that relate to how to use recycled material. During 2016 the mining industry has been suffering but the recycling business is stable. In some areas, legislation is not supporting the growth of recycling, but this will change in the future.
What are the main influences driving product development?
The main driver for product development is customer needs. It's an important issue because our task is to offer solutions to our customers, reduce production costs, optimise parts and make sure the units we produce are fit for purpose. Customers have very good ideas and these have been the starting point for us making the products better and better. We collect feedback continuously through customer visits and through our sales and service network, and use it in our development projects.
What are the main end user markets?
Geographically, the main markets are Europe, the USA and Japan. In terms of users it is recycling contractors, asphalt and concrete producers.
Are there significant technical, legal or environmental challenges affecting how you supply these industries?
Apart from the usual health and safety norms, we are at the Tier 4 final stage with the next Tier 5 step coming maybe in 2019. Energy efficiency is very significant and we managed to reduce fuel consumption by 30% just as the fuel price went up, so that was good news for us and our customers. Because of the need for noise and dust prevention, we designed a new noise encapsulation system for the LT106.
What recent projects or developments best sum up the Metso approach?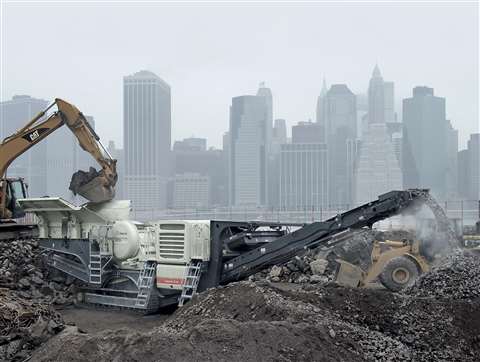 We have designed new generation Lokotracks and the LT106 and LT1213/S are popular products for recycling applications. We are also expanding our ASC (Active Setting Control) option from the LT96 machine to the LT106 and LT116.This protects the crusher from damage caused by uncrushable objects – it can be adjusted under load, no shims are needed for the setting adjustment and the system's dimensions are set to withstand crushing forces. Also, the toggle plate acts as a fuse in case of extreme overload. It means the same crushers can be used in different and multiple applications, such as heavy recycling, slag and foundry water, or industrial minerals. In overload situations, uncrushable objects are ejected and the ASC automatically returns to the original setting.
What new trends can the demolition and recycling industry expect to see in the mid to longer term future?
Recycling material usage until now has been very basic construction materials, but the trend is going more towards high quality end products and substituting aggregates. We will see new concrete made from recycled concrete, and recycled asphalt being added to make new asphalt. It's an opportunity for us as a supplier, particularly with the effect of legislation in new countries.
*Originally published in the November-December 2016 issue of D&Ri. You can register to receive the magazine on a regular basis at www.khl.com/subscriptions