Jungle dam
By Richard High27 February 2008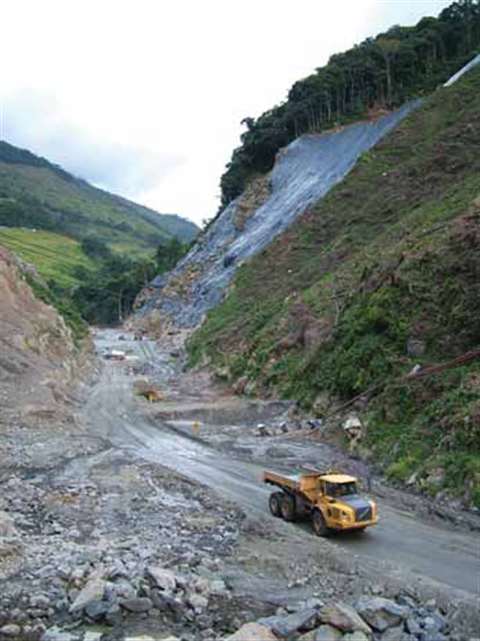 Landslides, rock falls, and poisonous snakes and spiders are just some of the hazards facing workers at Colombia's US$ 920 million Porce III hydro-electric power project, while a remote location and large work area are also impacting on construction equipment maintenance and servicing requirements. Richard High reports.
Driving to the Porce III hydro electric power (HEP) project from the nearest town Medellin, 147 km away, can take four or five hours. And that's if the road is clear.
More often than not, said Jayme Almeida, construction equipment maintenance manager Porce III, the journey takes longer thanks to the frequent landslides, rock falls and potholes that punctuate the route following one of the heavy rainstorms that frequently deluge the region. Besides that the shear size of the work site means it can take two hours just to drive from one end to the other.
No wonder logistics plays a large part in maintaining the 300–plus vehicles and pieces of construction equipment needed to deliver the project on time. This, Mr Almeida told iC, means the construction joint venture (JV) – Brazil's Constructura Camargo Correra (CCC), which holds 50%, and Columbian contractors Conconcreto (38%) and Coninsa (12%) – runs several maintenance and repair yards at the Porce III HEP with a large stock of spare parts.
Preventative maintenance
With the equipment on site worth about US$ 22 million, getting a return on such an investment is crucial. "An important issue here is the lead time for spare parts. They must be imported, which can take a long time given the distances some of them must travel and the bureaucracy they must go through," said Mr Almeida.
So all the major equipment suppliers keep a large inventory of spare parts here as part of their contract "It's all about preventative maintenance; making sure the machines are available and productive," he added.
Keeping track of that preventative maintenance program, said Mr Almeida, is one of the main problems with such a large fleet. To assist in the process each JV partner is assigned a different numbering scheme for its respective machines. If the number starts 800 it's Colombian, if it's 310 it's Brazilian and if it's 360 it's a joint venture machine.
"These numbers mean we can keep track of how long it has worked and when servicing is due," said Mr Almeida. "About 95% of the fleet belongs to the JV, the rest is rented. They prefer to buy the machine and give control of the maintenance to the respective dealer."
With the amount of tunnelling required for Porce III m – almost 17 km – one of the most crucial contracts at present is with drilling equipment manufacturer Atlas Copco. The company arrived on site in April 2006 and for surface drilling and tunnel excavation has supplied four ROC F7 surface crawler rigs and seven Rocket Boomers – four L2Cs and three XL3Cs, all of which are fitted with Atlas Copco's CanBus Rig Control System as standard.
It also has eight permanent technicians, two 4 x 4 vehicles, office and workshop containers, specialised tooling and spare parts at the project.
Contract structure
Like the other major equipment suppliers its contract is set up in two parts. The first covers service, including preventive maintenance and supervising, "If you don't have support with parts and people nothing will work," said João Lázaro Maldi Júnior, Camargo Correa's equipment superintendent.
"During the project we've used an 'SOS' system to schedule maintenance," said Mr Júnior. The in–house developed software system basically tells the technicians when to do something and what to do.
"It's all about preventative maintenance," he added. "That way you keep the machine working and productive, which saves money in the long term."
But finding, training and keeping good operators also impacts on maintenance. "We know that if we have good operators our maintenance costs are reduced," said Mr Júnior.
Suppliers need to back this up with their own staff however, he added. "Atlas Copco answered this question by supplying its own 'certified technicians', so they can take anyone from any country and put them on any project anywhere in the world and they can do what the client wants."
The second part of the contract covers parts. Atlas Copco's original agreement was for a total stock value of US$ 350000, but this has risen to US$ 600000 as the project has progressed.
"This consignment agreement with the JV means we supply all the major parts, which are agreed on, and, at the end of the month, we then charge them for what they use. It's like a supermarket," said Atlas Copco's general manager Colombia, Carlos Caicedo.
On site
Overseeing Atlas Copco's on–site technicians is Rafael Chamie. A product of Atlas Copco's Peruvian "school", Mr Chamie said the 3.5 months he spent there were invaluable, but that experience mattered too.
"I think it takes seven or eight months practical experience before you really know your job," said Mr Chamie. He also acknowledged there were areas of the job he had not anticipated; living 20 days on–site at a stretch, or the man–management side, which he described as "difficult" because "it's something I just wasn't used to."
Echoing Mr Júnior's earlier point, Mr Chamie said, "We've given training to all the operators [at the site], but turnover has been high, and finding the right people to replace them has been a problem. Older operators, who are used to hydraulic controls, don't particularly like the new joystick controls."
Younger operators have proved more adept at mastering the rigs' operating system. Training can now be done in just three weeks rather than the three months it previously took, added Mr Chamie.
"They are more productive, they understand the working environment better and they pick things up quicker. The operators are the technicians' best friends on a project like this," he continued. "They can identify problems with the rock face or the machine, sometimes before they even happen."
Atlas Copco's technicians, he added, can strip down and reassemble any one of the rock drills being used – COP 1838 ME/MEX, and COP 1838 HE/HEX – in just eight hours. After 250 hours of operation the engine receives its first service. While after 40 hours of percussion Atlas Copco's technicians "need to make some adjustments".
But maintenance, which is scheduled to be "as preventative as possible", has not just been at the workshop.
"Some has been done in the tunnels because the JV wants to push on. It would take too long to get the machine out and then back in, so we have no choice. But working in the tunnel is cramped, noisy, dirty and wet," added Mr Chamie.
Work schedule
And wet working conditions can often mean poor geological conditions, making progress difficult. However, with the JV pushing the machines so hard the main headrace tunnel, at the time of iC's visit in September, was advancing on five fronts; the entrance, exit and three windows.
Window 1 had advanced 1.4 km, Window 2 almost 1 km and Window 3 about 1.3 km. When complete the headrace tunnel will be just over 12 km long, almost doubling the amount of tunnels the country has.
Each shift, there are two 12 hour shifts per day, was advancing 3.5 m per day on each front, with 290 m3 of rock being blasted per shift on each face. This means the rigs are drilling about 450 m per day, with 129 holes per face to a depth of 3.5 m.
Window 2, said Mr Chamie, is the most critical. "The rock is very loose and there's lots of water entering the tunnel."
Two major collapses have occurred. One in the machine house, which damaged an XL3C's boom arm. And another in the deviation tunnel, which broke two of the other XL3C's boom arms.
This and the torrential rains of the last few weeks – the rainy season runs from April to October – pushed the work schedule back almost two months on some fronts. By the end of August the diversion tunnel had advanced only 240 m, with 430 m still to go by a scheduled completion date of October.
Pressure
With pressure to complete the job on time intense, the JV has been looking to fast track several parts of the project. The result, said Ivar Bosa, chief planning engineer, is that the diversion tunnel is now 2.5 months ahead of schedule, while the dam fill is one month ahead.
The aim is to finish the whole project ahead of schedule, said Mr Bosa. While there is no bonus for doing this there are penalties for finishing late. "Problems, such as the ones we faced here – a short mobilisation period, bad geology, torrential rains etc – are always present.
"The trick to overcoming them is to remain open minded to finding the right solution," added Mr Bosa. "I'm confident this is something we will achieve whatever problems we encounter."