Knife edge precision for GGR
By Laura Hatton23 July 2014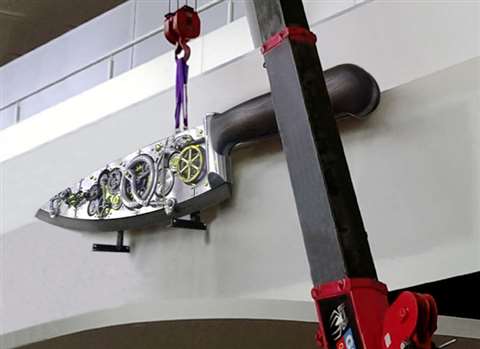 GGR Group used a Unic mini spider crane to install a clockwork knife sculpture at the new Heston Blumenthal restaurant at London Heathrow Airport in the UK.
To install the knife, a 0.995 tonne capacity Unic URW-095 crane was used. The sculpture, designed by artist Rob Higgs, is 3.2 metres long, weighs 200 kg and has a moving metal blade.
The new restaurant, "The Perfectionists' Café", is in The Queen's Terminal, the new Heathrow Terminal 2. To reach the café, the mini crane was transported in a goods lift. Following testing, the URW-095 lifted the clockwork knife to a height of 6.5 m, where it was fixed into position by the installation team on an aerial work platform.