L.A. station redevelopment approved
By Chris Sleight29 October 2014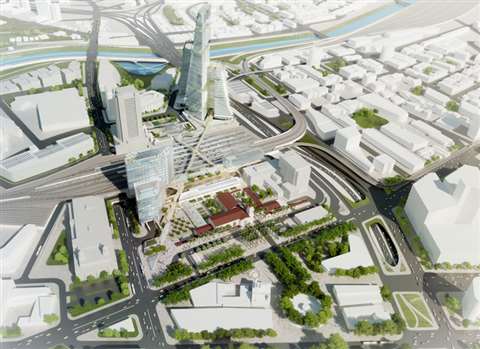 The Los Angeles Metro Board has approved the implementation of a new master plan for the US city's Union Station. The plans include perimeter improvements, building better connections with neighbouring areas and an environmental review.
The master plan is described as, "An ambitious long-range roadmap for L.A.'s single largest public transit hub, from planning to implementation," by Grimshaw Architects, one of the consultants involved in developing the master plan.
Los Angeles City Mayor and Metro Board Chair Eric Garcetti said, "Today is a milestone day in our goal to bring 'America's Last Great Train Station' into the 21st century. Metro is now on the move to make Los Angeles Union Station a world-class transit hub."
Planned improvements to Union Station's perimeter include a series of streetscape, open space and transit stop improvements that soften the edges of the station, improve the pedestrian and cyclist experience, strengthen connections to and from the station's entrances and create a more welcoming environment to transit riders and visitors. These include the removal of the surface car park on the northern side of the forecourt and the creation of a public plaza. This and other improvements will directly link the station to the El Pueblo Historic Monument.
Further planned improvements are renovation of the 75-year-old roof and new heating, ventilation and air conditioning system for the historic station.
Metro has been working on the Union Station Master Plan for years with a consultant team led by Gruen Associates and Grimshaw Architects.
The station opened in 1939 and primarily served passenger trains connecting to cities across California and the US. Ridership is currently some 110,000 passenger trips per day and is expected to jump to nearly 197,000 trips per day by 2040 as the Metro Rail system expands.