Landscaper adds Arocs
By Leila Steed12 April 2019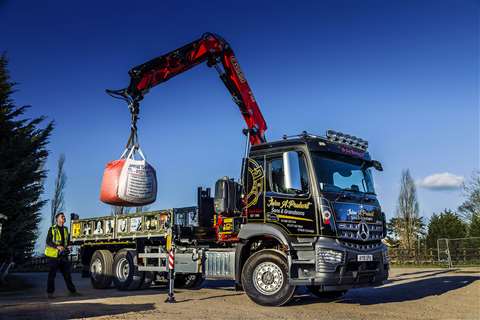 UK- based landscaping firm Supreme Turf & Soil (STS) has added the Mercedes-Benz Arocs 2532L model to its fleet.
Dealer Orwell Truck & Van (OT&V) said the landscaping company opted to base its latest tipper-grab with Fassi crane on a 6x2, on-road N3 chassis because only one axle is driven. This means the firm could also specify the rear-steer axle which significantly enhances the truck's agility by reducing its turning circle.
The Arocs 2532L has a ClassicSpace M-cab and is powered by a 235 kW (320 hp) straight-six engine with a Mercedes PowerShift 3 automated transmission.
According to OT&V the rear-steer axle can be lifted to allow the driver to restrict tyre wear, when running with a partially load or no load at all. It said a deloadable feature also allows weight to be transferred to the drive axle, which increase traction on occasions when the Arocs is required to negotiate uneven ground.
John Probert of ST&S said, "We do a lot of work on housing estates, where access can be an issue. Thanks to its steered back axle our new six-wheeler can get in and out of spots that you wouldn't have a chance of reaching in a standard vehicle."
The Arocs also features a radio remote-controlled Fass 155 crane with quick-release fittings to allow for the easy changing of attachments, which include a clamshell bucket and a brick and block grab.
The new six-wheeler is now part of ST&S fleet, which also includes a 6x2 Arocs 2532L dropsider with rear-steer axle, rear-mounted crane and brick grab, and a 3.5-tonne Fuso Canter tipper.