Large loaders from Hitachi
By Chris Sleight31 March 2010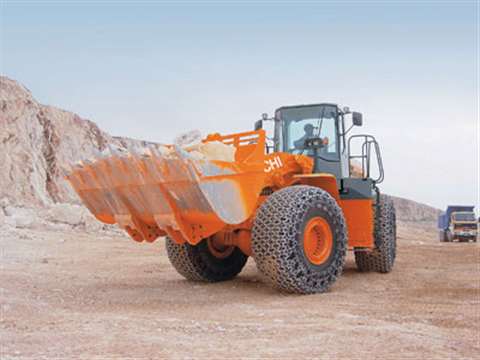 Hitachi will launch three new wheeled loaders, the ZW330, ZW370 and ZW550 at Bauma, the first fruits of its alliance with Kawasaki and TCM. They feature powerful and economic engines with two distinct settings - power boost and fuel efficient. These options can be selected according to the needs of the job site and are designed to increase productivity and efficiency.
They feature a Torque Proportional Differential (TPD), which controls the distribution of torque to the wheels. This is particularly advantageous when working on uneven terrain, such as marshland and rough ground.
The load-sensing hydraulic steering system boosts steering force to enable full use of pump torque for higher job efficiency. The ZW370 and ZW550 also have improved torque control for enhanced overall performance.
The cab has interior and exterior rear-view mirrors, which ensure greater visibility, and the halogen headlights fitted to the front and rear of the machines enable safer night-time operation.