Large wind project for Van Oord
By Sandy Guthrie09 January 2017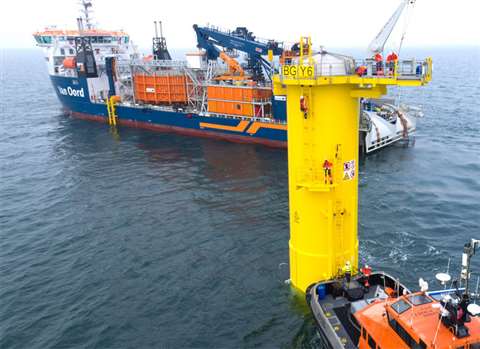 Dutch offshore specialist Van Oord is set to build what is claimed to be Belgium's largest offshore wind project, while another project will see Van Oord and Boskalis reinforcing the Houtrib dyke in the Netherlands, which protects large parts of the country from flooding.
Van Oord has signed a contract with Norther for the balance of plant works for the Norther offshore wind farm, located 23km off the Zeebrugge coast in Belgium. With a maximum capacity of 370MW, it is expected to deliver renewable energy to 400,000 households.
The Norther offshore wind farm hopes to contribute significantly to Belgium meeting its target of generating 13% of its energy needs from renewable sources by 2020.
The Van Oord activities include the engineering, procurement, supply and installation of the 44 wind turbine generators' foundations, the Offshore High Voltage Station, and the installation of the turbines.
For the transport and installation of the foundations and turbines Van Oord intends deploying its offshore installation vessel Aeolus and cable-laying vessel Nexus. Construction will start in 2018.
Norther is ultimately owned by three parties – Belgian Elicio, a Belgian renewable energy producer operating internationally (50%); Dutch Eneco, a major producer and supplier of renewable electricity, natural gas and heat in the Netherlands and Belgium (25%); and Diamond Generating Europe (25%).
Houtrib dyke
Meanwhile, the Dutch Directorate General for Public Works & Water Management (Rijkswaterstaat) is to award the contract for the reinforcement of the Houtrib dyke to Van Oord and its partner Boskalis. The contract is worth €90 million, of which Van Oord's share amounts to €45 million.
The project entails the reinforcement of the Houtrib dyke on both sides with sand and rock over a distance of 25km. The activities will be carried out between 2017 and 2020.
The dyke reinforcement project is part of the Dutch Flood Protection Programme, an alliance of Rijkswaterstaat and all district water boards aimed at reinforcing primary dykes in a more innovative and robust manner.
The Houtrib dyke is located between Enkhuizen and Lelystad, the Netherlands, and protects large parts of the country from flooding. During storms, the dyke prevents water from the IJsselmeer lake flooding into the Markermeer lake.
Van Oord said that the dyke, however, currently did not meet the government safety standards.
Van Oord is executing various dyke reinforcement projects that protect the Netherlands against flooding, including the recently awarded Den Oever project, and the reinforcement projects of the dykes on Dordrecht Island, and the dyke between Hagestein and Opheusden.
As part of the Dutch Flood Protection Programme, Boskalis is currently also working on the reinforcement of the Wadden Sea dyke on Texel, the reinforcement of the Wadden Sea dyke between the towns of Eemshaven and Delfzijl, as well as making this dyke earthquake-proof, and the reinforcement of the Markermeer dykes between the towns of Hoorn and Durgerdam.