Leggat does the Terex double
By Ian Vallely14 October 2016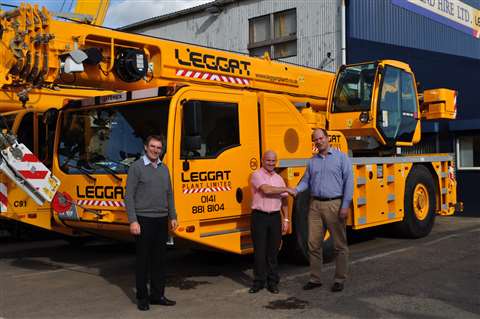 Leggat Plant, located in Barrhead, south west of Glasgow, Scotland, has built up a fleet of more than 15 cranes, ranging in capacity from 25 to 130 tonnes. When it came time to renew two 40 tonne cranes the company chose Terex AC 40/2L all terrains.
The first was delivered in August, closely followed by a second in September. With a maximum system length of 45.4 metres, combined with a compact overall length of 10.79m, the AC 40/2L is described as a flexible machine, perfectly suited to almost any type of small rental or contract lifting job.
Eddy Donaghy, Leggat Plant director, said, "We have a long working relationship with Terex Cranes and receive a high level of support from the UK-based team.
"We bought our first crane from Terex in the 1960s… and have purchased a number of cranes in recent years, including an AC 100/4L, Challenger 3160, Explorer 5500 and a AC 80-2."