Liebherr lifts its own at Rostock
By Laura Hatton21 November 2014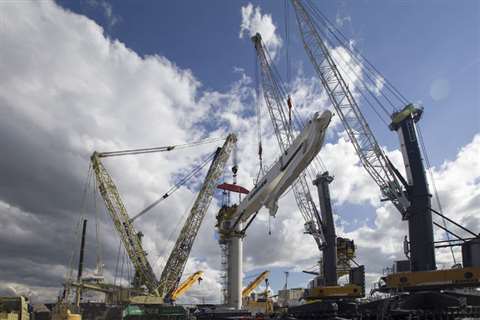 Two Liebherr LHM 600 mobile harbour cranes and two Liebherr LG 1750 lattice boom mobile cranes worked together to lift a Liebherr RL-K 7500 subsea crane in a single lift in Rostock, Germany.
The RL-K 7500 subsea crane lifts 300 tonnes and can handle loads down to a water depth of 3,600 metres. It has a working radius of up to 50 m, a rope diameter of 82 mm and maximum overturning moment of 75,000 kNm. It has a dead weight of 665 tonnes. It is fitted with Heavetronic and Pactronic systems and has an active heave compensation (AHC) system to monitor and predict vessel movements. A result of this is that the system does not need to be manually adjusted and is independent of weather conditions, the manufacturer said.
The crane has a patented horizontal winch shifting system, which guarantees the ideal fleet angle of the rope under all load conditions in both hoisting and lowering operations, the manufacturer said.
The RL-K 7500 can be installed on board drillships and heavy lift vessels. The knuckle boom of the RL-K 7500 is designed for use in hazardous areas. In addition, the crane can have an Arctic temperature package, allowing for operation at temperatures down to -40 degrees Celsius.
The RL-K 7500 is now waiting for its scheduled delivery in mid-November to be shipped to Daewoo Shipbuilding & Marine Engineering (DSME) in Asia. A Liebherr RL-K 4200 knuckle boom crane will be also be delivered to DSME.