Liebherr's 50,000 loaders
By Sandy Guthrie13 April 2017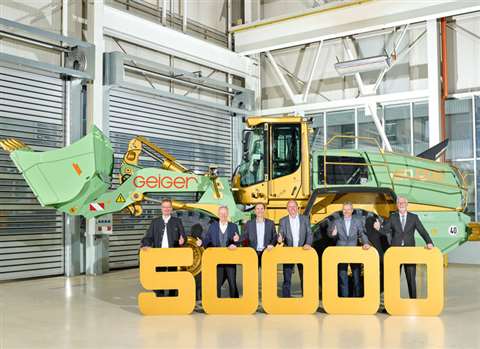 Liebherr has produced its 50,000th wheeled loader, and the landmark machine, an L 566 XPower, is being delivered to a long-standing Liebherr customer.
Wheeled loaders, which are manufactured at Liebherr-Werk Bischofshofen in Austria, have been produced by the company since the 1950s.
The 50,000th machine will be delivered to Geiger Unternehmensgruppe, and Geiger's managing partner Pius Geiger and Geiger Logistik's managing director Gernot Beer travelled to Bischofshofen to pick up the wheeled loader in person.
In collaboration with Geiger, Liebherr put together special paintwork for this machine – a combination of gold and Geiger's company colours.
Liebherr-Werk Bischofshofen's managing sales director Martin Gschwend said, "Geiger Unternehmensgruppe is a very special partner for us. We are not only linked by many years of a professional relationship. As innovative and sustainable family-owned businesses, we share the same fundamental values."
Pius Geiger said, "We have known Liebherr as a reliable partner for many years. Across all management levels we value this trust-based, active partnership that has evolved over the decades".
Gschwend said, "The anniversary L 566 XPower wheeled loader is, like all XPowerseries models, a technological milestone."
He said the XPower represented "the comprehensive, innovative machine concept of the latest Liebherr large wheeled loaders", combining efficiency, powerful performance, durability and convenience.
He said, "Already over 1,000 of the 50,000 Liebherr wheeled loaders feature XPower generation technology. The positive experience our customers are having with these machines demonstrates that we have been right to invest in durability and performance as part of the XPowerdevelopments."
Geiger uses the L 566 XPowerfor transportation at the company-owned quarry in Wertach im Allgäu, Southern Germany.
15 models
Liebherr-Werk Bischofshofen currently provides 15 different wheeled loader models in four different product groups – compact loaders, Stereoloaders, medium-sized wheeled loaders and large XPower generation wheeled loaders.
The plant has also developed an independent product line for emerging markets outside Europe and North America in collaboration with Liebherr production companies in Dalian in China and Guaratinguetá in Brazil.
Liebherr said that as early as the first two decades of the company's history, the first prototypes Elefant and Mammut were developed, around the 1950s, with the LSL 1500 following in the 1960s.
There was "intense development" throughout the 1970s, and series production of the first two L 531 and L 541 wheeled loader models came in 1983. Additional models followed shortly after. By 1989, the wheeled loader range consisted of seven models.
With the L 522, Liebherr claimed to be the first manufacturer to showcase a wheeled loader with plastic panelling, which it did at Bauma 1992. The introduction of the agile Stereoloaders and a comprehensive revision of the large wheeled loader model series were additional milestones in the 1990s. The world premiere of the L 586, the world's largest wheeled loader with hydrostatic driveline, was at Bauma 2007.
Compact loaders were launched at Bauma 2013. As part of the large XPower wheeled loaders' market launch in November 2015 and the market launch of the new mid-sized wheeled loaders in April 2016, Liebherr converted these two machine categories to conform to Stage IV/Tier 4 Final emissions regulations.