Lift Minicranes orders Maeda
By Christian Shelton23 August 2017
UK mini crane rental company Lift Minicranes has taken delivery of what it claims is the first MC815C Maeda mini crane in the UK.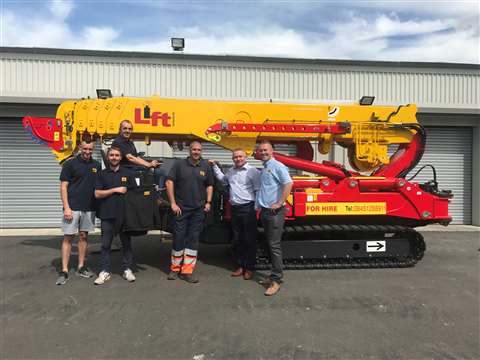 The MC815 has an eight-tonne lifting capacity, a 19.4m tip height, and a 1,000 kg pick and carry capacity. Lift Minicranes specified the crane to be supplied with a 1,000 kg searcher hook and a 1,500 kg safe working load hydraulic two-section fly jib, to increase the maximum lifting height to 25.5 metres.
Other features include a 10.4″ (265 mm) multi-function touch screen monitor, power lifting mode, a Technos 2 radio telemetry system, joystick control, remote auto-levelling and auto crane stowing, a safety operation system. Power is from an EU Stage 3B compliant engine.
Also included is an outrigger interlock device, a two-speed winch, hydrostatic transmission, data logger, 6/4/2 fall hook block, a tilt sensor and alarm.