Light and low Scheuerle move for Doolan's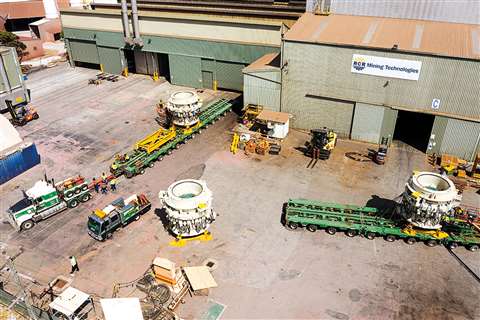 A combination of light weight and low height equipment was instrumental in the success of a 1,400 km transport project in Australia by Doolan's Heavy Haulage.
The WideCombi axle lines from Scheuerle carried a pair of 160 tonne rock crusher components. Special time slots were not required which allowed the job to be done sooner and faster. Other equipment would have been less efficient, Doolan's said.
Pulled by two tractors, with a total tractive force of 500 tonnes, 14 axle lines of WideCombi were used to haul each component which was 5.5 x 5.5 x 5.0 metres. They were moved from engineering service provider RCR Tomlinson, in Welshpool, Western Australia, to the final destination in a quarry around 1,400 km away.
Weight distribution on the axle lines, their relatively low dead weight, plus the low overall height of the transport vehicle, allowed the two road trains to complete the majority of the route without police or power escort. They could also drive through most of the daytime and did not have to switch to short time slots. Overhead power lines only had to be lifted on a total of 2.5 kilometres of the trip.
"If we had used transport equipment from local manufacturers, additional axle lines would have been necessary to distribute the load correctly. Because of the additional height of the transport, we would have needed the support of a power supplier to drive under power lines for 250 instead of 2.5 kilometres", explained Ross Attwood from Doolan's Heavy Haulage.
A video of the transport can be seen here.