Lindsey Anderson reports on the warmer-than-aerial utility rental market
By Lindsey Anderson15 November 2010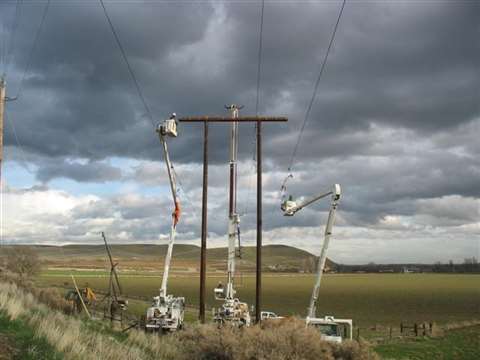 While many in the access construction rental business struggle to get machines out of their yards and onto a jobsite, the utility side of aerial rentals has faired better. "From the perspective of the overall market of North America, we haven't necessarily seen an area that is booming or significantly down over the other," says Brad Todd, president of Nesco Sales & Rental. "During different parts of the last two years we might have seen the market be down somewhat, but overall, the market is not worse than it was two years ago."
Indiana-based Nesco Sales & Rental specializes in selling and renting bucket trucks, boom trucks, cranes and more to the utility equipment industry. The company has 28 locations across the US and Canada and while Todd won't share specific utilization rates, he says Nesco hasn't seen a significant decrease in rentals, and in some areas, the company has witnessed an increase in rentals due to a lower demand in overall sales.
"At the end of last year, we saw a decrease in the sales side of the business, but rentals were somewhat kept up with the marketplace," Todd says. "We might have seen some dip depending on the market [location] but not significant, and since about the end of January, the market has held pretty strong on the rental side.
"What we have probably seen more than anything else is that customers, from a purchasing aspect, have tended to [be] on the cautious side. So although they have had some opportunity and some liquidity to purchase either used and/or new equipment, they're probably less active or strong when they were two years ago. They are being cautious."
In 2005, the U.S. Federal Energy Regulatory Commission (FERC) established a set of rules to drum up investment for the outdated and over-extended transmission infrastructure in order to meet demands of the growing US population. The utility industry is therefore increasing its involvement in transmission work to meet demands. Transmission lines provide "routes" to move electricity to a concentrated area. From there, a distribution system moves the electricity to either a home or business. Distribution work has seen a slight decrease due to the housing market bust and slowing of new home builds.
"Customers are requesting more transmission-based equipment, which is more of the stringing [of electrical lines]," Todd says. Therefore larger-sized booms and aerials are being rented out more than in the past, especially over the last two years. "As an industry as a whole, we have seen more track equipment come into and/or requests for track equipment more than it ever has in the past."
Nesco's fleet features crawler mounted bucket trucks from the 42-foot working height SDP EZ Reach Trax 42 (a specially adapted version of the Versalift SST40 aerial) to the 125-foot working height Terex TM125 tracked bucket. For higher projects, like transmission work, NESCO also has bucket trucks beyond 125 feet of working height, including a fleet of Bronto Skylift units. The Bronto Skylift S173 XDT works up to 173 feet, while two of its bigger siblings, the Bronto Skylift SI178 HDT has a 178-foot working height and the S180 HDT has a 180-foot working height.
Updated fleets
While a definite shift in demand has taken place from distribution-type equipment to transmission equipment, Waukesha, WI-based Utility Equipment Leasing Corp (UELC), the rental sister company to Dueco, is still running a high utilization of distribution equipment.
Dueco is a distributor of Terex Utilities equipment in North America.
UELC's general manager Tom Greenwood says 12 months ago, he didn't see the distribution numbers he is seeing today. "[A year ago], we were wrestling with a little bit lower utilization on [distribution] equipment," Greenwood says. "Now, we've turned the corner with that."
UELC has a fleet of 533 trucks, 75 percent which are aerials that are rented and leased from four UELC facilities, five Dueco facilities and eight dealers across the country. The company also has a leasing program that makes up about 10 percent of its business, though the company admits they've consistently tried to increase that.
"It's always been an area where we've strived to increase those numbers," says Allen Raines, national sales manager for UELC. "...It's a good philosophy for our fleet to have so many [units] owned, so many rented and so many leased. You need to square it out so not all your eggs are in one basket."
Raines says some of their customers have regular lease programs which allow them to expand their fleets. "Right now, with the economy the way it is, it's a good way to get new equipment without having to spend a whole lot of money up front," he says.
Over the past year, however, Greenwood says UELC has consciously tried to sell equipment that was aging and replace it with newer equipment. "We were managing our demand and our sales to do the marketplaces and there was a little downsizing last year, but in the process of downsizing, we've also replaced equipment and added equipment for the transmission side of business into our fleet."
Even though UELC is seeing high utilization for distribution equipment, the company is investing in transmission work and related equipment. "We took the opportunity [during the economic downturn] to reposition ourselves and buy transmission equipment and have additional exposure to that market," Greenwood says.
UELC has added 100-foot units for transmission jobs, along with track-based bucket trucks, which are heavily used in transmission work because of the rough terrain. Specifically, UELC has invested in tracked Terex TM105s and wheel-based Terex RM75s.
The company has sold off older, traditional distribution equipment such as 5TC 55s, C4045s and C4047 Terex models, and have replaced them with newer models, Greenwood says. "Generally, we are selling anything with 'dirty engines,' and keeping the 2008 emission model or newer engines in the fleet," he says.
Markets
Across the US, the Northeast has seen steady work, though it dropped off a bit in late 2008 like most markets, and the Northwest has had an overall increase in business, says Raines, with UELC.
Meanwhile, the Southeast - Arizona, New Mexico and surrounding areas - have been hit hard, while the remaining US remain steady. "The Northeast and East have been really good over the past year and they're coming back strong now."
Greenwood feels the worst part of the recession has been weathered and UELC's revenues and utilization would reflect an uptick, although it will be slow and steady and not a 'V' shaped recovery. "It's going to be a very methodical uptick in the business sector," he says. "We've always been a strong rental player, we've always promoted our lease programs and we are selling our service, as well, so we are diversifying our offerings" to stay level.
While both UELC and Nesco's rental businesses have fared pretty well during the last two years, Nesco's Brad Todd says companies see business increasing at the end 2010 and beginning of 2011 due to contracts already on the books that have been on hold and pushed back due to the downturn.
"The interesting thing about the utility business is that it is not something you can put off forever," Todd says. "It has to be maintained."