Linewise conductor solution
By Euan Youdale23 September 2015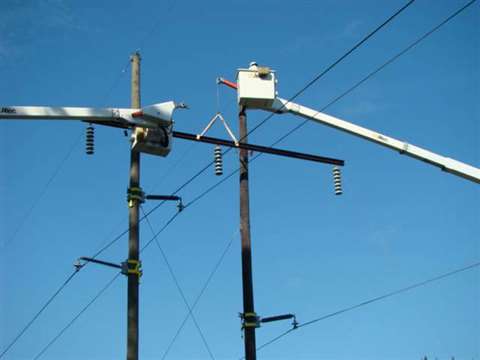 In the past, it has been necessary to shut down an entire transmission line when repairing a high voltage structure, says USA-based specialist manufacturer Linewise.
In responce, it has produced the Hot Line Base Plate which holds a conductor in place during planned construction or emergency repairs without the need to bore holes or for unique banding. It is designed to allow crews to quickly and safely install a non-ceramic insulator on a tubular steel, concrete or wood pole. Traditional tools require excessive rigging and aren't intended for long-period installations or wet weather, said the manufacturer.
Used in conjunction with an aerial work platform, the implementation of the Hot Line Base Plate in Georgia Power fieldwork has shown to reduce maintenance time by an 50%, according to Linewise, which is a division of Diversified Products.
"The intent of a structured power line is to maintain adequate clearance between energized conductors and the ground, as well as provide support to the conductors from potential causes of damage during storms or iced lines. The tools and techniques used to hold conductors during repairs often do not have the load rating needed to handle them, however, placing linemen at risk," said a company spokesman.
The Hot Line Base Plate boasts two heavy-duty straps reinforced with chaffing pads to reduce the likelihood of strap damage. This also means it can safely hold up to 1600 pounds, plus, with the addition of a single strap upper attachment that allows for triangulated bracing, load capacity increases to 4000 pounds.