LiuGong expands its range
By Joe Sargent08 April 2019
Chinese manufacturer LiuGong has 20 machines on display at Bauma with a total of nine new machines at its stand.
Among the new machines the company is showcasing are three wheeled loaders, two excavators, a new motor grader, two new crawler dozers, and a new forklift.
All new models are to the level of Euro IV or Euro V emissions standards, except for the new 909ECR 8.9 tonne excavator which is stage EU IIIB, and the EU stage II 4180D motor grader, with an operating weight of 15.5 tonnes.
The motor grader is a completely new machine and is the embodiment of the company's design DNA, according to LiuGong.
A completely new cab interior has been implemented for comfort and efficiency. The machine has 324-degree panoramic visibility owing to a 5-post cab with a single C-pillar.
New impact resistant materials have also been introduced to provide better weight distribution. In addition, access for routine maintenance has also been improved to reduce downtime.
Another of the company's new models is its 950E demolition excavator, which it developed in close collaboration with Kocurek UK. The 48 tonne excavator has a stronger 30m long reach boom with a maximum pin reach of 17m.
The design of the attachment group also allows changing of standard equipment to high reach equipment and vice-versa in 30 minutes or less.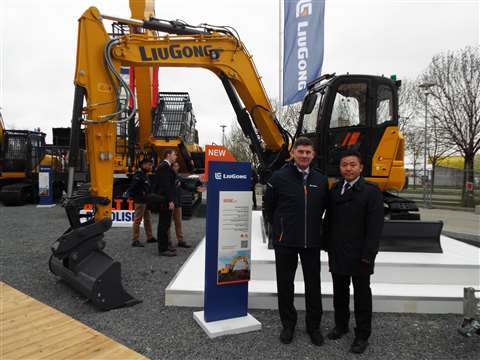 Operator comfort and safety have been considered in development. The cab has been modified by replacing the front window screen with 5-layer laminated glass.
LiuGong's overall aim is to be ranked in the top three in China and the top ten globally by 2022 in sales with sales revenue of RMB 50 billion (US$ 7,442,851,015) in 2025.
One of the key points for the company was the designing, manufacturing and testing of its products in Europe and conforming to European standards.
Howard Dale, chairman of LiuGong Europe and LiuGong Dressta Machinery, said, "For a Chinese brand, we have a distinctly European flavour. We are listening to our European customers and working hard to be the company, they want us to be."
Within Europe, LiuGong has just acquired UK-based distributor CPMS. Through them, another of LiuGong's new machines will be availabe: the 909ECR excavator, which has been tailored for the rental market.
It has zero tail swing for safer operation, and the boom features two lots of hydraulic lines so that a wide range of tools can be used with the machine.
When asked about the effect of Brexit, Dale said the company had seen no slow-down in demand; "A lot of ageing equipment is due to be changed out."