LiuGong opens new Indonesian subsidiary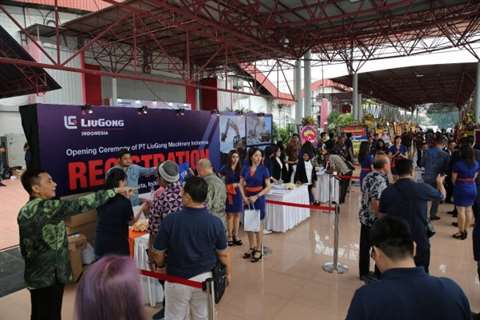 LiuGong celebrated the opening of a new subsidiary in Jakarta, Indonesia with 400 some customers, dealers, senior management and local dignitaries at JI Expo.
Since 2003 LiuGong has grown its business network to include 13 subsidiaries – including outlets in South Africa, Brazil, the United Arab Emirates, the Netherlands, India, Poland, Singapore, Russia, Hong Kong, the US, Mexico and the UK – and nine parts distributor centres.
LiuGong displayed 19 machines at the recent opening ceremony, including customized equipment for mining and forestry.
The recent celebration was attended by Randi Anwar from the Indonesia Investment Coordinating Board (BKPM) and Zhang Li from the Chinese Embassy.
"This investment not only shows LiuGong's commitment to its customers, but also contributes to the friendship between China and Indonesia," Anwar said. "We hope more Chinese enterprises will come here and achieve their own success."
Chen Hao, president of LiuGong Asia Pacific, said the establishment of PT LiuGong Machinery Indonesia is an important milestone for LiuGong's overseas development.
"Our vision in Indonesia and the Asia Pacific region is strong and clear. We are going to train and build a localized team and eventually form a new overseas centre with R&D, manufacturing and post market capabilities in Indonesia," he said. "We are going to constantly improve the product support in both service and spare parts."
The new office will focus on sales, customer support, spare parts service and marketing in Indonesia and the Asia Pacific region.
"The opening of the Indonesian subsidiary will bring our customers better economic support, faster parts turnover and more professional services," said Luo Guobing, vice president of LiuGong Machinery Co., Ltd. "The establishment of PT LiuGong Machinery Indonesia makes us closer to the market. This in-depth understanding of our customers' needs will help our products and solutions be more suitable for the Indonesian market."