London tower build with Brogan
By Euan Youdale04 April 2018
Brogan Group is using its recently launched products the Colossus Hoist and Common Tower to help construct the Madison Tower in London, which is set to have a major impact on the city's Canary Wharf skyline.
The Common Tower accommodates multiple hoists, which can travel to differing or the same levels at any time, including twin hoists and the Colossus. It can service 70 storeys/300m height in standard configuration and is able to go higher with additional bracing. Space is provided for personnel using three access points: hoists conjoined on both sides and the staircase within the Common tower.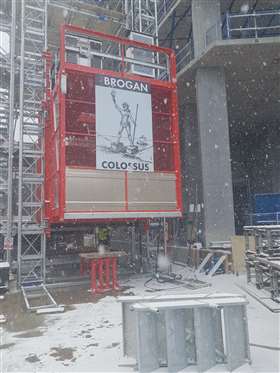 As for the Colossus, which has the design of the colossus statue on it, it is the largest of its type in the market with dimensions of 5m x 3m x 3.1m. It can safely carry 40 passengers or 4000kg up to 350m at a lifting speed of 40 m/min. Notably, Colossus' internal height of 3.1m enables the distribution of pods and cladding.
Balfour Beatty opted for Brogan to supply the common tower because of the height of the Pod's which they will need to get in to the building via the Colossus.
The common tower will accommodate a passenger/goods hoist, as well as the Colossus, simultaneously at up to 181m (53 storeys). The Common tower used in combination with the Colossus meant that they could distribute the pods to all floor levels minimising required crane time.
The other main benefit of the common tower is that it has the Colossus, twin passenger/goods hoist, as well as another means of escape, a staircase, all running off on to it. It then accesses in to the building, with the main point of entry being just 3m wide. This also means the amount of the facade and internal work left unfinished is kept to a minimum. Once the lower levels have been loaded out, the facade can be finished and closed off while work is still being completed above.
The Madison project
Canary Wharf, London
£150m Project
181m, 53-storey tower providing 423 residential apartments.Main construction due for completion in 2020
Brogan provision
Colossus Hoist, (new hoist to the Brogan fleet)
Common Tower, (first used on the Madison Tower)
Twin passenger/goods hoist
General access scaffold