Louvre Abu Dhabi assistance from Haulotte
By Euan Youdale12 September 2016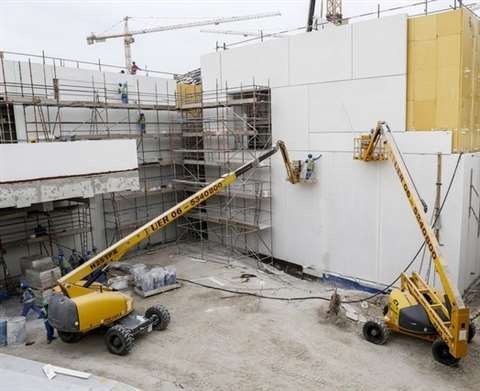 Haulotte has supplied equipment for the construction of the Louvre Museum in Abu Dhabi, designed by French architect Jean Nouvel, which is more than 95% complete and is set to open in December 2016 or January 2017.
The equipment was supplied through Haulotte distributor United Gulf Equipment (UGER). The project sees a combination of traditional Arabic architecture with a modern twist including a vast steel dome that will create a 'rain of light' effect on visitors walking below it and cover two thirds of the museum.
An al Falaj-inspired water system, based on a series of water channels, runs through the museum, creating an oasis effect, while the architectural plans also lend themselves to Souks semi-covered by the dome and illuminated by beams of light.
Louvre Abu Dhabi will display works of historical, cultural and sociological significance through the ages of the region to its contemporary artifacts. "By presenting different civilizations in the same space, universal themes and common influences will be highlighted to illustrate similarities arising from shared human experience."
Most of Haulotte units on site are diesel articulated and telescopic big booms. The newly upgraded Haulotte HA41RT Pro, with a maximum outreach of 19.8m and a lifting speed of less than 40 seconds is on site, as is the HA20RTJ, featuring an ergonomic and spaciously-designed platform, as well as fully proportional, simultaneous controls, useful for work on the dome. The H25TPX is also being used for reaching the most difficult working areas.
"We are proud and happy to be part of this universal project which is not only a museum for displaying art, but a huge historic project which will contribute to Abu Dhabi becoming a hub for world culture and will activate the cultural exchange between the UAE and France." said a representative of Haulotte Middle East.