Lube-A-Boom anti-shock launch
By Euan Youdale22 August 2018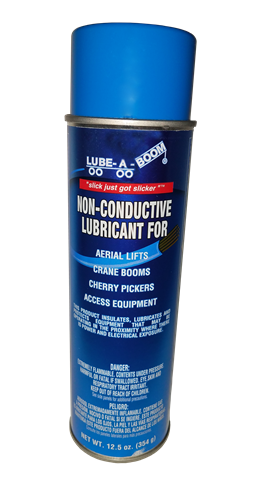 US-based Lube-A-Boom has launched its Insulator, a friction reducing lubricant that prevents workers from being shocked when applying it.
The new product is available immediately in 15 oz (425 gram) spray cans from authorized Lube-A-Bomm dealers located throughout the US, Canada and markets wordwide. A low VOC version, mandatory in some jurisdictions, is also available.
The company said the market demand of the latest product is all about worker safety in potentially dangerous situations.
"For any aerial lifts, cherry pickers or other equipment that moves, slides or lifts and has to be around power – or have anything to do with electrical applications – this is going to insulate the properties that are lubed," explained Jo Roberts, product development lead at Lube-A-Boom. "Insulator will prevent these particular workers from being shocked when applying lubricant to the machines, as they and all equipment users must do."