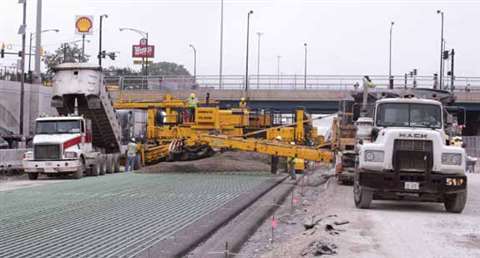 The tragic collapse of the Interstate 35W (I–35W) Mississippi River Bridge on August 1 this year, which killed 13 and injured scores more, has pushed the US's aging, and ailing, infrastructure networks into the national spotlight.
Finished in 1967, its eight lane, 581 m long steel truss deck carried 140000 vehicles a day across the Mississippi River in Minneapolis. According to the Minneapolis Department of Transport (MDOT) the average life span of this type of bridge is about 50 years.
However, in 1990, the federal government gave the I–35W Bridge a rating of "structurally deficient," citing significant corrosion in its bearings. The bridge is one of about 77000 bridges – 13% of the total – in that category nationwide, 1160 in Minnesota alone.
What the Minnesota tragedy demonstrates, said American Road 'Transportation Builders Association (ARTBA) vice chairman Bill Cox, is, "The threat that exists from delaying repairs to the network's aging bridges." It is supporting House of Representatives Transportation 'Infrastructure (T&I) committee chairman Jim Oberstar's proposal to create a strategic capital investment plan aimed at rehabilitating the national highway system's bridges.
Mr Cox has called for "all available financing solutions" to be used to overcome that threat. Public–private partnerships, innovative financing, tolling, and new user fees "are all part of the solution," he said.
However, Mr Cox also added that "the foundation" of any successful transportation financing structure must continue to be the federal motor fuels tax, despite the rising cost of oil.
Transportation crisis
While the MDOT has already awarded the Flatiron–Manson joint venture the US$ 234 million design and build contract to replace the bridge, it was due to break ground as iC went to press, its collapse points to wider concerns.
According to the ARTBA, repairing the US's ageing bridges is "the first critical step" toward achieving the goal of a comprehensive national surface transportation program.
In March this year, ARTBA first vice chairman Charlie Potts told the National Surface Transportation and Policy Revenue Study Commission, "The secure and efficient movement of freight and people is the lifeblood of the American economy and should be the driving force behind development of a new federal transportation vision and strategic plan."
That need should be met, argues the ARTBA, with a new, two–part federal–aid highway program structure featuring a Critical Commerce Corridors (3C) program. This, it said, should be financed with new, "freight–related, dedicated revenue streams" that would improve freight movement, reconstruct and upgrade the current Interstate System, and provide "the new capacity and inter–modal connections necessary for competitiveness".
Augmenting this should be investment in the rest of the existing federal–aid "core" highway and transit programs. This would upgrade and protect the US's "past investments" in transportation infrastructure, added Mr Potts.
"We believe a clear separation between the 3C program and the core highway and transit programs is necessary to ensure new capacity gets added to the national system and those being asked to financially support the program see their investment being put into the infrastructure they directly benefit from," said Mr Potts.
Investment shortfall
Mr Potts rejected calls by anti–highway groups to reduce or eliminate the federal government's role in transportation infrastructure–related activities. "It's puzzling why the federal role is even being debated," he said. "China, India and the European Union are not questioning whether there needs to be a strong federal role in transportation. They are making huge, strategic transportation investments designed to help them challenge, and beat, America in the global marketplace."
In addition to the 3C program, said Mr Cox, the federal government should be boosting investment in transportation to shore up an aging infrastructure.
Simply maintaining the current highway network requires US$ 20 billion annually in new revenue to the Highway Trust Fund over the life of the next federal surface transportation investment bill, according to analysis of US DOT data by the ARTBA.
The current highway and transit law – the Safe, Accountable, Flexible, Efficient Transportation Equity Act: A Legacy for Users (SAFETEA–LU) – expires on 30 September 2009. And beginning in fiscal year (FY) 2010, said ARTBA vice president of economics 'research Dr. Bill Buechner, the government would have to invest US$ 54.5 billion, growing to US$ 61.5 billion by 2015, "just to maintain highway conditions and ensure traffic congestion doesn't get any worse."
By comparison, he added, current Highway Account revenues are projected to range from US$ 34.7 to US$ 40.5 billion between FY 2010 and FY 2015, a shortfall of about US$ 20 billion annually.
An increase in the federal motor fuels excise, said Dr Buechner, is the most effective way to fill this shortfall in the short–term. It has not been increased since 1993, and inflation has eroded 30% of its purchasing power during this time, he added.
Not meeting this shortfall would have dire consequences. "The challenges of meeting the nation's highway needs looms even larger," said Dr Buechner.
Development corridors
While the debate rages on there are several projects either under construction or consideration in the US.
These include many multi–state regional projects like the 'Great Plains International Trade Corridor'. This will run through seven states from Texas to North Dakota, providing access from Mexican gateway cities and ports in Texas to population and distribution points to the "Canadian gateways".
Elsewhere, there's the 'Ben Franklin Corridor'designed to link the strategic port of Philadelphia with significant commercial and military hubs in Pennsylvania, Ohio, New Jersey and New York. This is envisioned as part of a larger 'American Marine Highway Corridor' that would link East Coast ports in Philadelphia, Charleston, South Carolina, and Savannah, Georgia, with the Gulf Ports of Beaumont and Corpus Christi, Texas.
There is also the Trans-Texas Corridor and the Alameda Corridor East Project that would link the ports of Los Angeles and Long Beach with the San Gabriel Valley 'Inland Empire'. Or the US$ 1.5 billion (Chicago Region Environmental and Transportation Efficiency) CREATE project, which is designed to improve the city's roads and rail links.
Whether all these projects are started and completed is a moot point. At present maintaining and repairing its road network would appear to be the US's top priority.
But this comes with its own set of problems. And the Dan Ryan Expressway, which runs right through the heart of Chicago, epitomises those problems.
Currently undergoing extensive expansion and repair it was originally constructed between 1961 and 1963 with a 20-year lifetimes and a carrying capacity of 150000. Now, 43 years later it carries over 300000 vehicles per day.
Chicago's Walsh Construction Company has been at work on the Expressway for the last two years getting perimeter walls in place and paving entrance and exit ramps. This year they were awarded the contract to pave 9.7 km of express lanes in each direction, four lanes wide.
Job-site logistics are "a nightmare," according to Rocky Bellis, general superintendent for Walsh's Chicago Heavy Highway Division. The express lanes are on the inside of the freeway, so Walsh's men are surrounded on both sides by three lanes of traffic carrying 100000 vehicles per day.
Commuter train stations and train tracks crisscross through the project. On any given day, over 100 trucks drive into the project area.
Strong demand
But, the current value of the US Dollar, means any drive to repair the US's infrastructure will perhaps only have benefits for domestic contractors and construction equipment manufacturers in the short term.
According to the US Association of Equipment Manufacturers (AEM), the construction equipment manufacturing industry expects overall US and Canadian business to remain flat through the end of 2007 but rebound in 2008.
"Overall, we've seen a slowdown in the past year or so," said AEM president Dennis Slater. "The residential housing slump in the US has sent ripples across the entire economy, not only the construction industry.
Non-residential construction continues to offset losses in the housing market, said Mr Slater. While the public works sector has "grown steadily" over the past decade, with road building an " important contributor".
"We have guaranteed funding for the next few years under SAFETEA-LU federal transportation legislation, [but] a major concern is the estimated multi-billion-dollar shortfall in the Highway Trust Fund," he added.
Dallas Reeves, Volvo's vice president, North American sales region, told iC the last 12 months had seen sales of road building equipment fall. "A slowing US economy, primarily the result of a slow-down in the housing markets, has curtailed overall construction investment," he said.
However, sales of paving and compaction equipment, he added, had faired well during that period. While rental has also performed well, particularly large soil compactors and smaller double drum rollers.
Outside the US, Russia, China, India and Brazil continue to invest heavily in their road networks. Hamid Lavassani, of Caterpillar's road building equipment division, told iC, the Middle East is "very good", Europe and Africa are "strong", while Russia is "booming".
A M Muralidharan, vice president of Volvo road machinery in Asia, told iC the regional market has grown by +15% to +20% in the last 12 months. This was mainly due to the infrastructure demand in countries like China and India, he added.
"In China, there has been heavy construction work due to the Beijing Olympics of 2008 and housing construction all around the country. In India, basic infrastructure like roads, airports and ports are under construction.
The region's contractors have been buying mainly excavators and pavers. "Compactors are mainly being used as maintenance machines in China and as road construction machines in India.
"In South East Asia, particularly Indonesia and Thailand, there has also been lots of infrastructure work undertaken recently.
This market is buying mainly excavators, trucks and paving equipment," he added.
Also enjoying considerable success in China are Dynapac and Bomag. The first Dynapac Compact asphalt paver to be delivered to China is being used on the construction of a new highway project in Hebei Province.
And, with predictions that by 2020, the total length of China's highway network will surpass the US interstate's, Dynapac has recently added 8300 m2 to its 45000 m2 Tianjin Wu Qing High Tech facility. The factory currently manufacturers its 15 and 18 tonne single drum vibratory rollers and 1 and 13 tonne tandem drum vibratory rollers, plus pavers.
Elsewhere, Bomag has sold 69 of its BW 226 DH–4 BVC single drum rollers to the largest state sponsored construction company in China, the China Railway Construction Corporation (CRCC).
There is no doubt that the demand for a fast, efficient, well maintained road network is universal. Delivering these projects, whether via concession or other finance route, will demand a huge investment both from Governments as well as the private sector.
However, many equipment manufacturers are in buoyant mood. Volvo's Mr Muralidharan told iC, "In the next 12 months I expect to see growth in Asia continue at a similar rate [about +20%]. Although the Olympics in Beijing are in August 2008, there will be housing and infrastructure development in second and third level countries following this," he said.