Mammoet installs huge turbines in Australia
Heavy lift and transport specialist Mammoet has installed 28 Vestas wind turbines at Neoen's Kaban green power hub in North Queensland, Australia.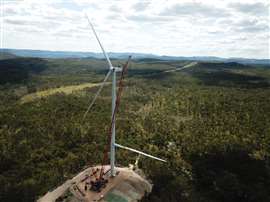 The company used a Terex Demag 700 tonne capacity AC700 all terrain crane for the combined offloading and preassembly work.
This crane was engineered to set up in a single optimal position, which enabled a two-stage offloading process with intermediate preassembly. This approach decreased the number of teams required on-site from three to two, and minimized crane movements needed between lifts, resulting in significant time and cost savings, Mammoet said.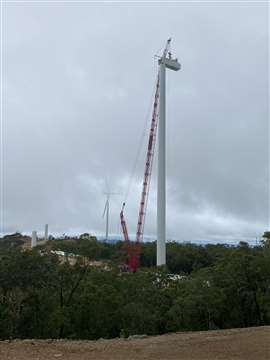 Then, Mammoet's Liebherr LG 1750SX lattice boom crawler crane, equipped with a 151 metre main boom and 12 metre fixed fly, lifted the EnVentus powertrains, each weighing 92 tonnes, to a hub height of 149 metres.
Working alongside Vestas' mechanical and electrical installation teams, Mammoet assisted in the lifting and assembly of turbine components, including tower sections, nacelles, powertrains, hubs, and blades. Once assembled, the turbines tip height was 226 metres.
The Vestas EnVentusTM V162-5.6 MW turbines are purported to be the first of their kind in Australia.
Super lift counterweight
A fleet of Scheuerle SPMT and Goldhofer THP multi-axle trailers were used to manoeuvre 400 tonnes of superlift counterweight at once, supporting the LG1750 installation, and up to 280 tonnes of counterweight at once during on-site relocations. This method not only accelerated operations but also reduced the number of truck and trailer trips, ultimately minimizing the project's carbon footprint, Mammoet added.
Bjorn-Evert Van Eck Rasmussen, sales executive manager at Mammoet Australia said, "The company's long-established presence in Australia, extensive fleet of equipment and vast expertise in onshore wind farm projects, positioned us as the ideal partner for the project. With a strong focus on sustainability, we brought a new level of expertise to the table. Through our collaborative efforts with Neoen, Vestas and the other project stakeholders, we played a part in driving the transition to clean and green energy in Far North Queensland."
Once complete the US$241 million wind farm is expected to generate 460,000MW hours of clean energy annually, enough to power up to 100,000 homes.