Mammoet installs steel bridge in Lithuania
By Laura Hatton20 May 2015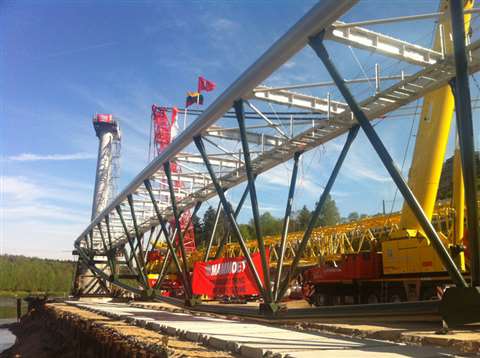 Heavy lift and specialized transport suervice provider Mammoet has transported and installed a pedestrian bridge across the Alytuas Park valley in the city of Alytus, Lithuania.
The main section of the bridge and the two side sections each measure up to 100 metres long and each have an average weight of 204 tonnes.
The bridge is being built by construction company Alkesta, after being commissioned by the Lithuanian Government. It will connect two banks of the river Numenas, the biggest river in the country.
The installation of the bridge started with placing the main section on the bridge pillars. Once the main section was lifted and installed into position, the two side sections were installed.
Mammoet was contracted by Alkesta to carry out the transportation and installation of the sections. Despite challenges during the project, including harsh weather, a strong current and the width of the river, the bridge was successfully installed.