Mammoet wins $80 million wind farm contract
By Laura Hatton29 July 2014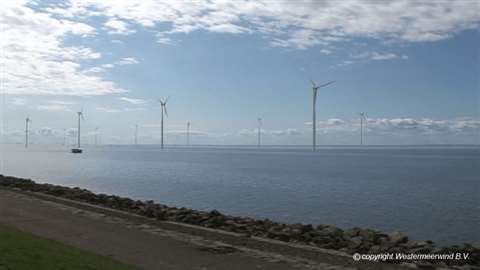 Mammoet and Ballast Nedam have secured a contract worth €60 million (US$ 81 million) to construct the Westermeerwind offshore wind farm in Ijsselmeer, Netherlands.
The Westermeerwind wind farm consists of 48 turbines each rated with a capacity of 3 MW. Ballast Nedam has been contracted to design, deliver and install the turbine foundations, while Mammoet has been contracted to transport and install the 48 units.
The wind farm's client is Westermeerwind BV and the contract for Mammoet and Ballast Nedam was developed with Siemens.
The turbines will be installed between 500 and 1,100 metres from the dikes of the Noordoostpolder on foundations between 3 and 7 m deep, a spokesperson said. The monopiles for the foundations measure 5 m in diameter and have an average length of 40 m. Each weighs between 250 and 300 tonnes.
"The wind turbine towers have a direct flange connection with the monopiles with no transition piece, so that the driving operation will be performed on the flange," a spokesperson commented. "When the driving work is complete a concrete maintenance platform will be attached and the wind turbines installed."
The monopiles will be produced by SIF Group in Roermond, and the pile driver will be supplied by IHC Hydrohammer in Kinderdijk.
Work is scheduled to start in March 2015, with first turbines due for operation at the end of 2015. One complete, the wind farm will supply energy for around 160,000 homes.