Massive mobiles
By Chris Sleight11 June 2008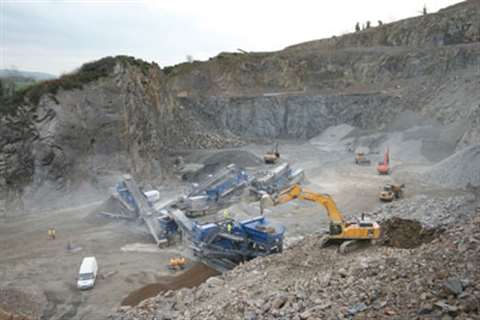 Last year Latteragh Quarry in County Tipperary, Ireland took delivery of a 500 tonnes/hour mobile crushing system made by Kleeman. The machines are being used to produce seven products in a three-stage crushing operation, five of them complying with the quality requirements for asphalt and concrete production.
The feed material is a hard greywacke with a density of up to 2.6 tonnes/m³. It is quarried by blasting prior to being delivered into the Mobicat 140 Z jaw crusher by means of an 80 tonne excavator. Contaminants are removed on the large double-deck pre-screen.
After primary crushing in the Mobicat 140 Z jaw crusher, the greywacke has a grain size ranging from 0 to 250 mm. Discharge conveyors then transport the material to the first of two mobile secondary crushers type Mobicone 13 S, where the 0 to 20 mm grain sizes are screened and stockpiled prior to the secondary crushing operation.
The remaining material with grain sizes of 20 mm or more produced by the first KH 400 cone crusher at a closed side setting of 30 mm is then processed to chipping size in the second Mobicone 13 S. Material of 14 to 20 mm grain size is stockpiled by this machine.
In the fourth plant of the entire process chain, a Mobiscreen 20 D triple-deck screening unit, the remaining material of grain size 0 to 14 mm is screened to four final aggregate fractions of 0 to 5 mm, 5 to 8 mm, 8 to 12 mm, and 12 to 14 mm.
The final aggregate fractions produced in Latteragh Quarry are used in the nearby asphalt plant, and also in a concrete plant. The pre-screen material resulting from the processing operation is sold as a mineral aggregate mixture.