Material lifts expand Snorkel range
By Euan Youdale27 February 2017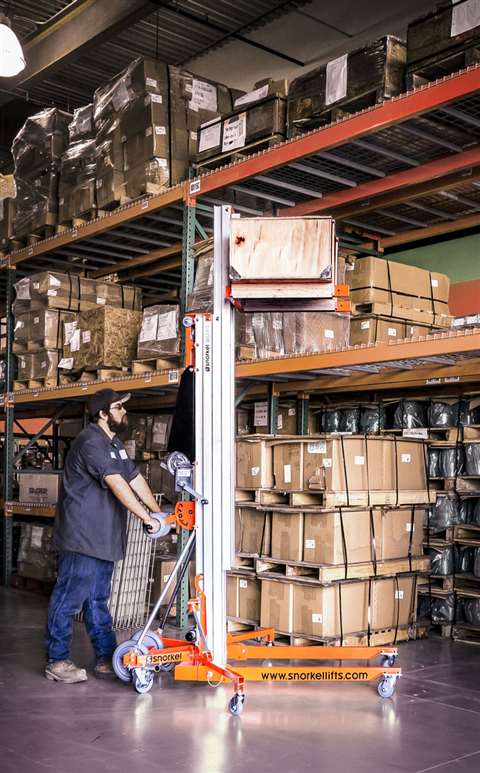 Snorkel is launching a line of six material lifts at the Rental Show in Orlando, as well as the production-ready version of its TM12E electric drive telescopic mast lift
Split into two product families, the Snorkel material lifts range includes three MLC models designed for heavy duty, construction applications.The Snorkel ML12C offers 11 ft 6 inch (3.5m) of lift height with up to 750 pounds (340kg) of load capacity at a 14 inch (0.36m) load centre, with the larger Snorkel ML18C offering up to 16 ft, 10 inch (5.1m) lift height with up to 700 pounds (318kg) load capacity at a 14 inch (0.36m) load center.
The largest model in the family is the Snorkel ML24C that can lift up to 650 pounds (295kg) at a 14 inch (0.36m) load centre to a lift height of up to 22 ft, 7 inch. (6.9m).
The remaining three material lifts are 'MLM' models that feature a shorter mast height to easily pass through a standard doorway without requiring a tilt-back system. This makes them ideal for industrial and warehouse applications where loads may need to be moved throughout a facility. The Snorkel ML12M can lift up to 700 pounds (318kg) at a 14 inch (0.36m) load centre to a lift height of 10 ft, 10 inch (3.8m).
At the same load centre, the Snorkel ML16M and Snorkel ML20M can lift loads of 650 pounds. (295kg) and 600 pounds (272kg) to lift heights of 14 ft, 5 inch (4.4m) and 17 ft, 11 inch (5.5m) respectively.
The six lifts all feature a dual-handle, shift-on-the-fly, two-speed winch for increased productivity when lifting loads. To celebrate the launch, Snorkel is running a prize draw to win a Snorkel ML16M material lift on its booth at the Show, taking place 27 February – 1 March.
Originally displayed as a prototype at The Rental Show 2016, the production-ready Snorkel TM12E is now available to order. The Snorkel TM12E features an electric drive system that delivers longer duty cycles, a zero inside turning radius, and a new electric braking system. Capable of lifting up to 500 pounds (227kg) to a platform height of up to 12 ft (3.6m), the TM12E includes a roll-out deck extension as standard, plus a new upper control box with an integrated power to platform outlet, that is common with Snorkel's electric slab scissor lift family.
Snorkel is also expanding its product line with the addition of six material lifts. Delivering best-in-class load capacities,
In addition, Snorkel is displaying its first telescopic boom lift that has recently been fully restored. The first Snorkel TB-42 was originally launched at the Chicago Plant Engineering and Maintenance Show 1977, and was still in full working order when it was driven into Snorkel's rebuild facility in Elwood, Kansas in 2014 to begin the restoration process. The development of the TB-42 was led by Art Moore, Snorkel's founder, who is being inducted into the American Rental Association Hall of Fame at The Rental Show 2017.
During the intensive restoration process, the TB-42 was completely taken apart and all non-original modifications were removed and replaced with sourced or fabricated Snorkel parts. Everything from the engine to the wiring and control boxes, front cowling, hydraulics and turntable were replaced or rebuilt to the original 1977 specifications. The first Snorkel logo with the fire hose represented on the 'S' also found its home back on the boom. The final touch was painting TB-42 back to the renowned Omaha-orange and white motif.