Maximising pumping efficiency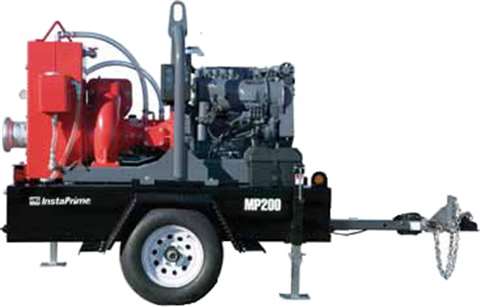 The new InstaPrime pumps from Multiquip are designed for moving large quantities of water quickly and efficiently. The InstaPrime Series can move up to 5000 gallons (19000 l) per minute in model sizes ranging from 6 to 12 in (150-300 mm), claims the Californian manufacturer.
Features include a patented screw-type impeller for increased flow, and each pump is fitted with a 15 gallon (570 l) fuel tank for extended continuous run times of up to 100 hours.
Powered by 29,8 to 71,6 kw Deutz diesel engines, the InstaPrime pumps can generate lift of 30 ft (9 m) in 30 seconds and handles solids up to 3,5 in (91 mm). The pump and priming system has drain valves to eliminate the risk of water freezing in the unit, and a water lube vacuum pump prevents oil leaks and other unwanted priming discharge.