MEC launches tunnel and mining platform
By Euan Youdale20 January 2015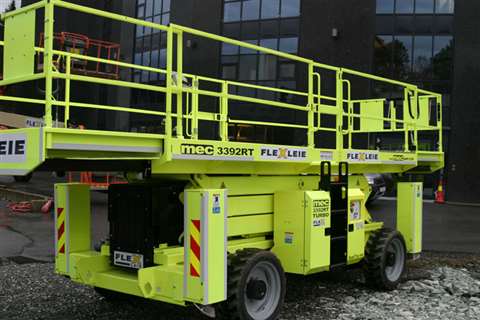 Norwegian equipment rental company Flexleie has received the first MEC 3392RT-T (Tunnel) scissor lift through Perfect Lift Sales, MEC's distributor in Norway.
The 3392RT-T is a purposely designed machine with unique features to suit the requirements for tunneling and mining applications.
Significant travelling distances are one of the challenges in such applications. The 11. 88 m working height 3392RT-T can travel at a maximum stowed speed of 10 km/h, compared to the usual 6 km/h of similar products, said the manufacturer.
There is also a requirement for operation on slopes significantly greater than standard models allow, said MEC. Therefore, the 3392RT-T has been designed to work on extreme inclines while elevated, without the need for outriggers, in correlation to platform height.
The platform is 7.55 m long fully extended x 1.9 m wide and has a lift capacity of 1,200 kg. It can operate up to 10° fore and aft and 8° side-to-side, and is offered as a 4-wheel drive diesel.
According to MEC, Flexleie has ordered 'many' more units. Flexleie rental manager, Ole Heie said, "The MEC 3392RT-T tunnel machine will prove to be a great success for us. It is the only AWP in the industry designed specifically for tunnel applications. Having the capability for faster travel, both elevated and stowed, as well as the ability to work while elevated on extreme angles, and having a very high lift capacity, makes this a sought out machine."