MEC take Titan on European tour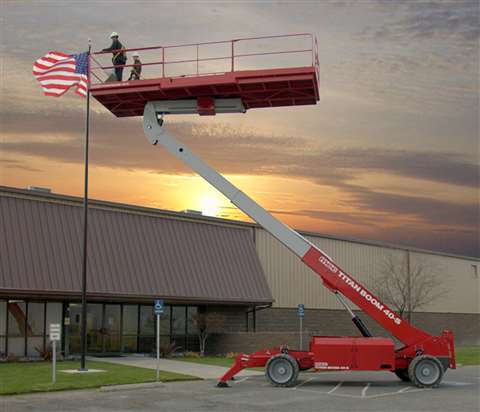 MEC's Titan boom designed for lifting large material loads and four workers is about to begin its European tour.
Having made 110 stops across the US between February and May, MEC intend to show the CE marked version across Europe with the first demonstration at the Spanish Elevarte show last week.
Jim Tolle of MEC said that the company was running two lines in the factory with overtime producing the Titans, "Most of the large US rental companies have bought machines," he said, "It removes the need for a telehandler and a boom, saving personnel, and allows rental companies to charge premium rates for hiring it."
The Titan Boom 40-S combines the capacity of a telehandler, deck of a scissor lift and reach and rotation of a boom, the company says. The unit features a 1800 kg (4000 lb) capacity, 6.7 m by 2.3 m (22 ft by 90 in) deck and working height of 14 m (46 ft).
The Titan can hold up to four workers plus tools and is designed to have sliding guardrails that allow for loads to be placed in loading zones on the platform deck. Once the guardrails are closed, the boom can then be raised.
The unit features three steering modes - two wheel, four wheel and crab steer, and has an automatic platform leveling system, smooth proportional controls and its platform can rotate 180 degrees. It has a 1300 kg (3000 lb) material load with up to four workers and tools to make for a total combined load of 1800 kg .
Powered by Kubota turbo diesel engine, the Titan Boom 40-S has 12 lanyard attachments and on-board diagnostics.
Mr Tolle said that next year he expected MEC would be producing significantly more machines than this year although was unwilling to commit to numbers.