Mersey Gateway claims €300 million savings
By Sandy Guthrie01 April 2014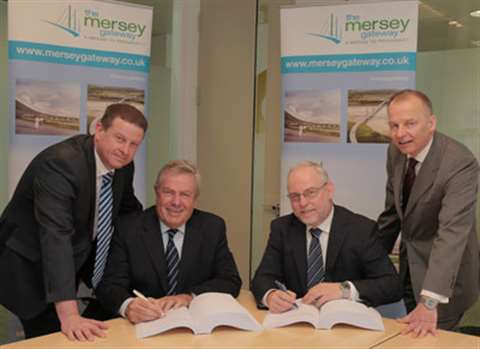 Financial close has been reached on the UK's Mersey Gateway Project in north west England, with Halton Borough Council and the Merseylink consortium announcing procurement savings of £250 million (€301.4 million).
All the 30-year contracts between Merseylink and Halton Borough Council have been agreed and the funding committed that will enable construction to start immediately, and the project to be operated and maintained for the next 30 years.
Merseylink, which was named as preferred bidder last June, is also publishing its outline works programme for the three-and-a-half-year construction of the new centrepiece of the project – a new six-lane toll bridge over the River Mersey.
The next few months will see the start of work, continuing through to an expected bridge opening date of autumn 2017. Once it is open, there will then be an opportunity to close the existing Silver Jubilee Bridge while it undergoes essential maintenance and is remodelled as a local bridge with improved facilities for pedestrians and cyclists, and better public transport links.
Halton Council said that the "innovative procurement programme" had delivered the savings of €301.4 million under the budget set by the government in 2011.
The project is being funded over the 30-year period by a mix of tolls paid by users and the grants from the UK government. The council will not make any payments to Merseylink until the road is open, and toll revenues and government grants are available to fund these payments.
To finance this delay in receiving revenue, the Merseylink consortium has put in place finance arrangements, which include making use of the new UK government IUK Guarantee Scheme to guarantee £260 million (€313.5 million) of the senior debt required, with the balance of the finance provided by four banks and the Merseylink sponsors.
Merseylink is made up of two consortia – concession and construction. The concession consortium includes Bilfinger Project Investments Europe, FCC Construcción and Macquarie Capital Group. The construction consortium includes FCC Construcción, Kier Infrastructure and Samsung CT.