Metso increases equipment production in India
Metso has increased its equipment manufacturing capacity in India, by expanding its existing factory in the city of Alwar.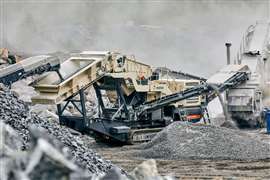 Opened in 2008, the Alwar plant is located near New Delhi and has now been expanded to facilitate a 35% increase in the production of mobile crushing and screening equipment.
Metso Lokotrack equipment and equipment from several of Metso Group's other brands will be made at the site. These include track-mounted models from McCloskey and Tesab, with wear parts and pumps for the aggregates and mining industries also set to be produced at the site. 
Markku Simula, President of the Aggregates business area of Metso, said: "With the increased manufacturing capacity, Alwar becomes the major Metso site for increased domestic business in India and exports to Metso's customers globally.
"Additionally, significant investment has been made in engineering and R&D resources, making it one of our key global engineering hubs."
The expanded Alwar factory, which now spans an area of 340,000 sq m, was officially 'opened' just days ago and is expected to reach its manufacturing full capacity by the end of the year.
Metso said: "The new factory showcases the most modern manufacturing practices, hosting several sustainability-driven functions like automated warehousing, automated assembly lines, modern painting lines and 13,000 solar panels installed to enable the increased energy production. After the extension, solar energy covers 85% of Alwar's total power generation, which is maximum permitted as per state government guidelines."